We LOVE all kinds of celebration (big and small) and when there is something to celebrate we are more than happy to take the opportunity to gather our family and friends. Of course it's all about just having a nice time together with our loved ones, but if we can add some lovely food, drinks, games and one or two small d.i.y-projects, we believe  that a ordinary gathering easily can be upgraded to an unforgettably feast.
Here at Bliss Copenhagen, we will share all our own celebrations. We hope that you will get inspired and get some inspiration and new ideas for your very own celebrations. First in line for you is a lovely family Easter brunch. Enjoy!
Love Rosa & Alexandra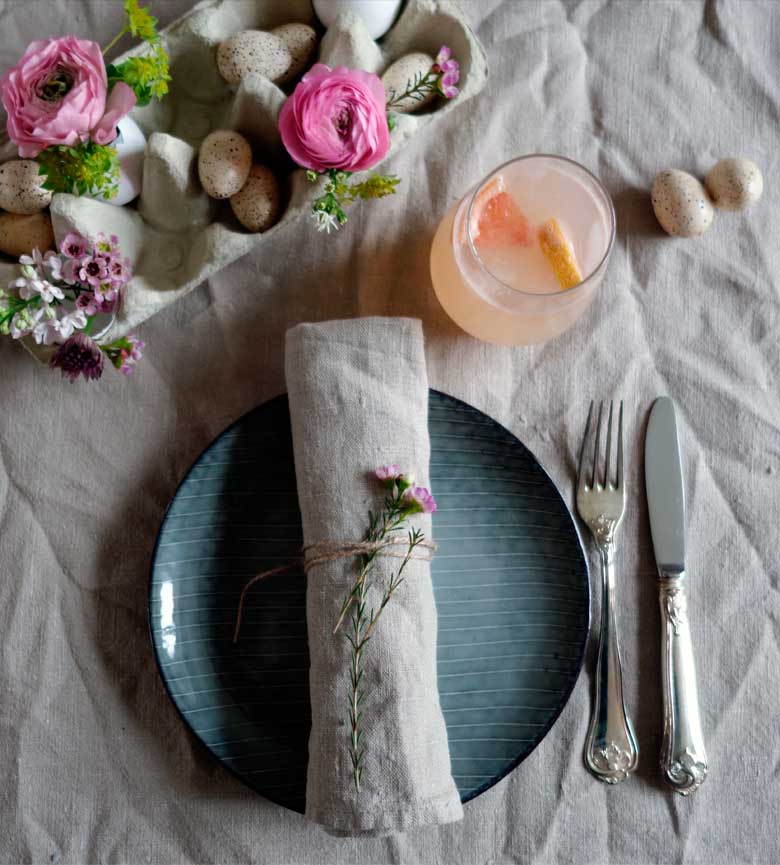 Keep your table decoration simple. A small bouquet of flowers can do magic.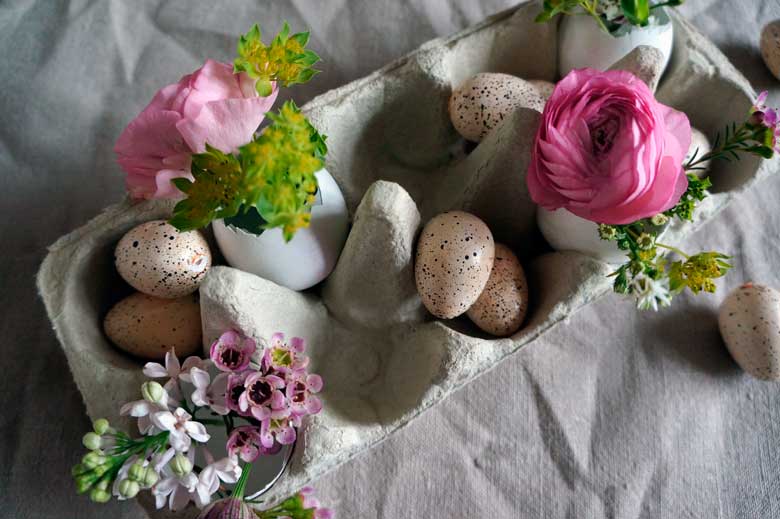 Use eggshells for vases and a ordinary egg box as a holder.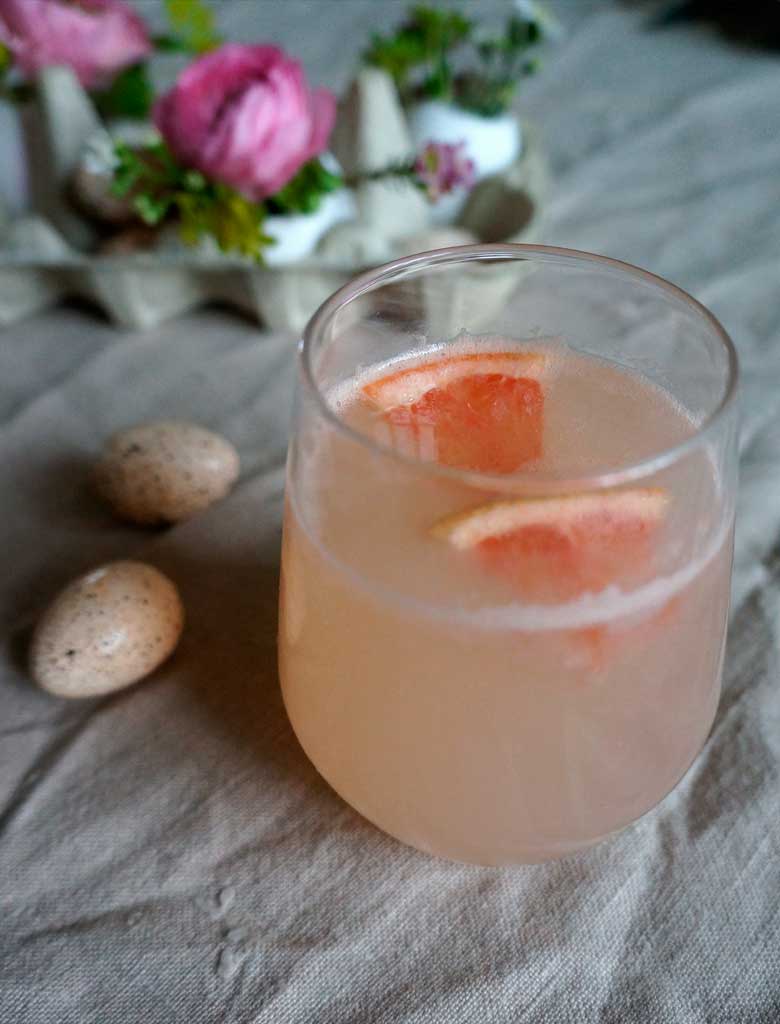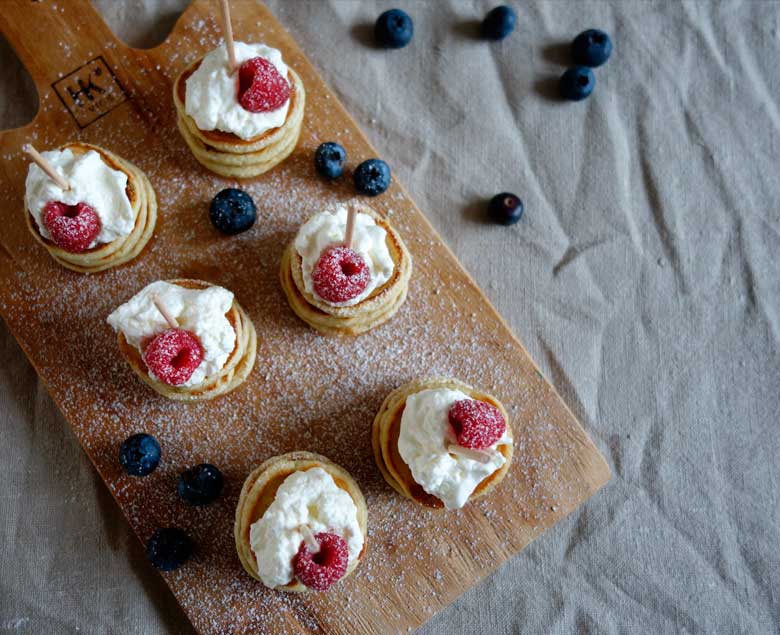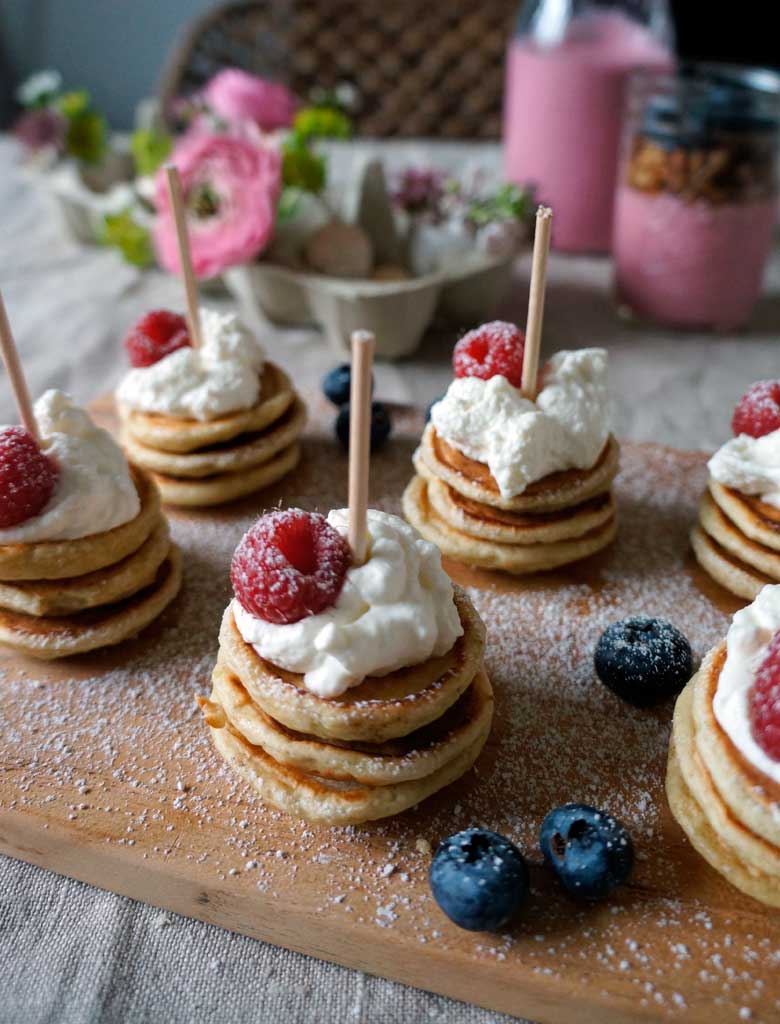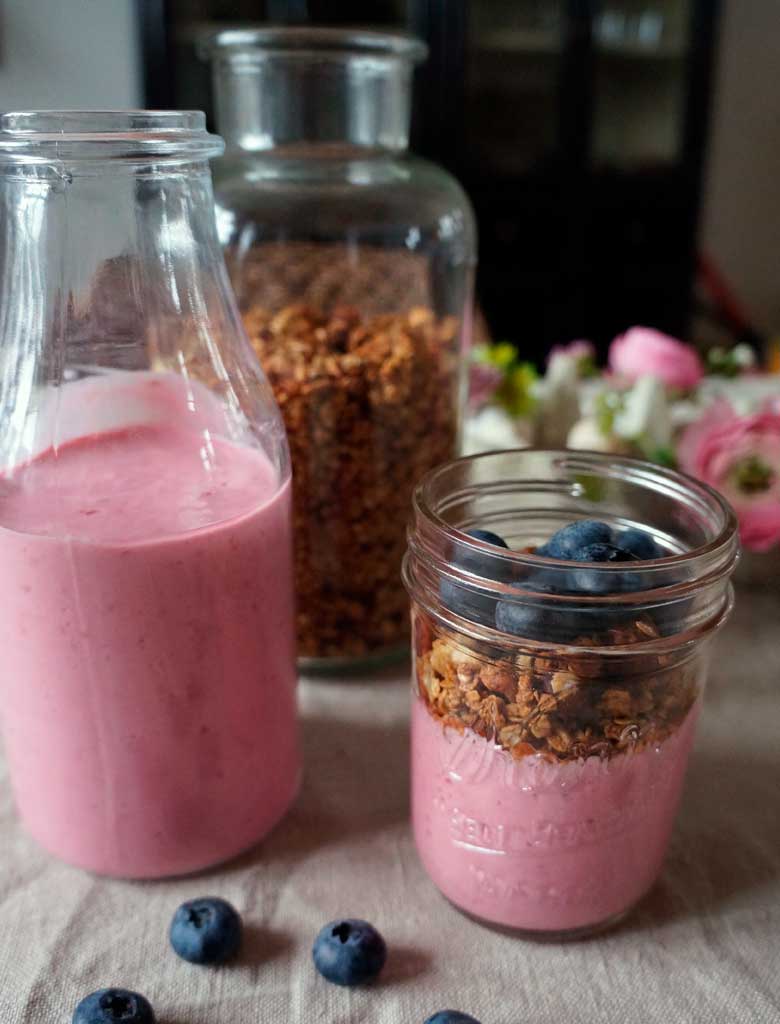 …..we love raspberry & blueberry.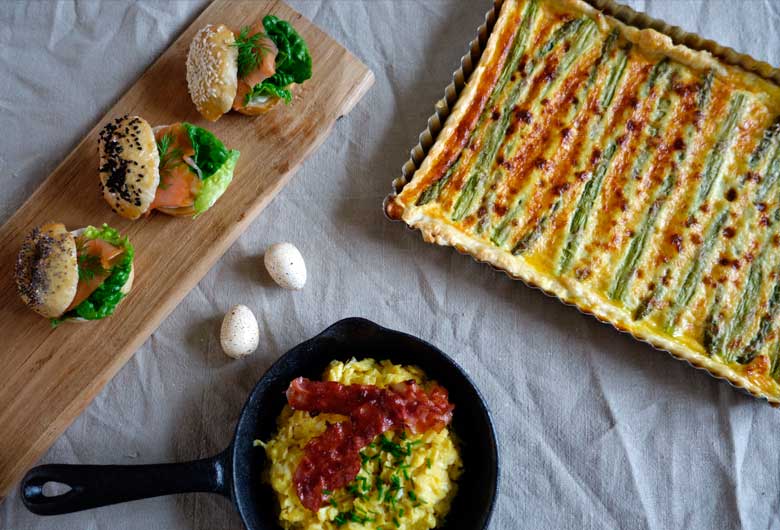 Where to start? Mini bagels with salmon, asparagus tart & classic scramble eggs.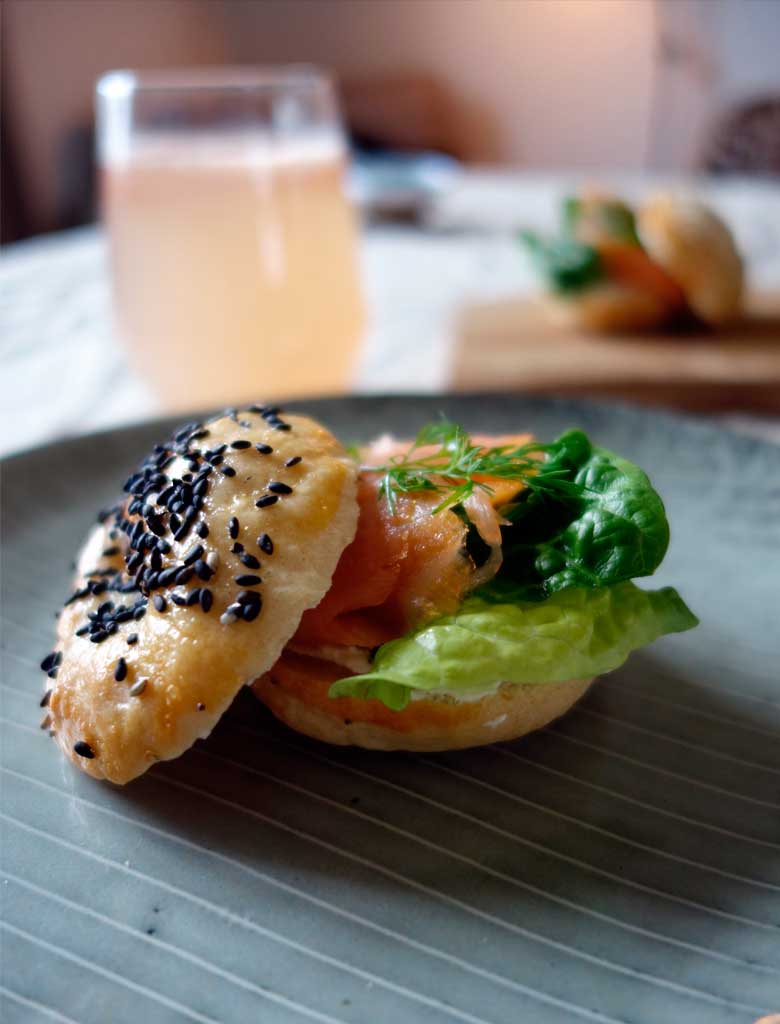 Mini sized bagels. Both tasty & cute.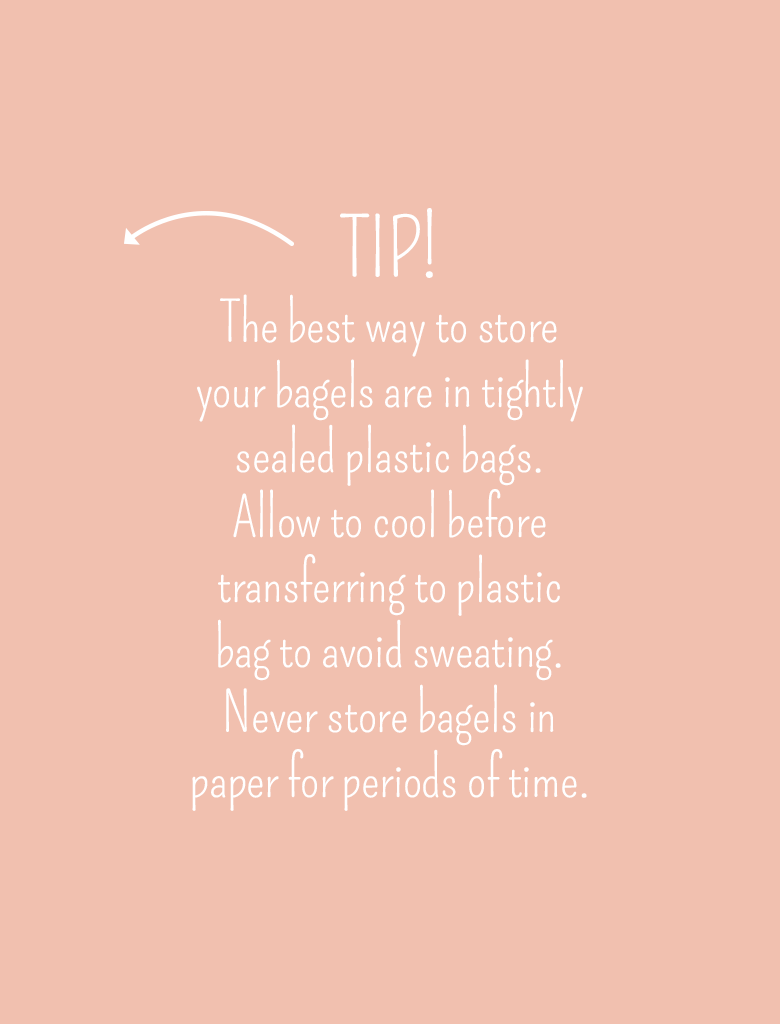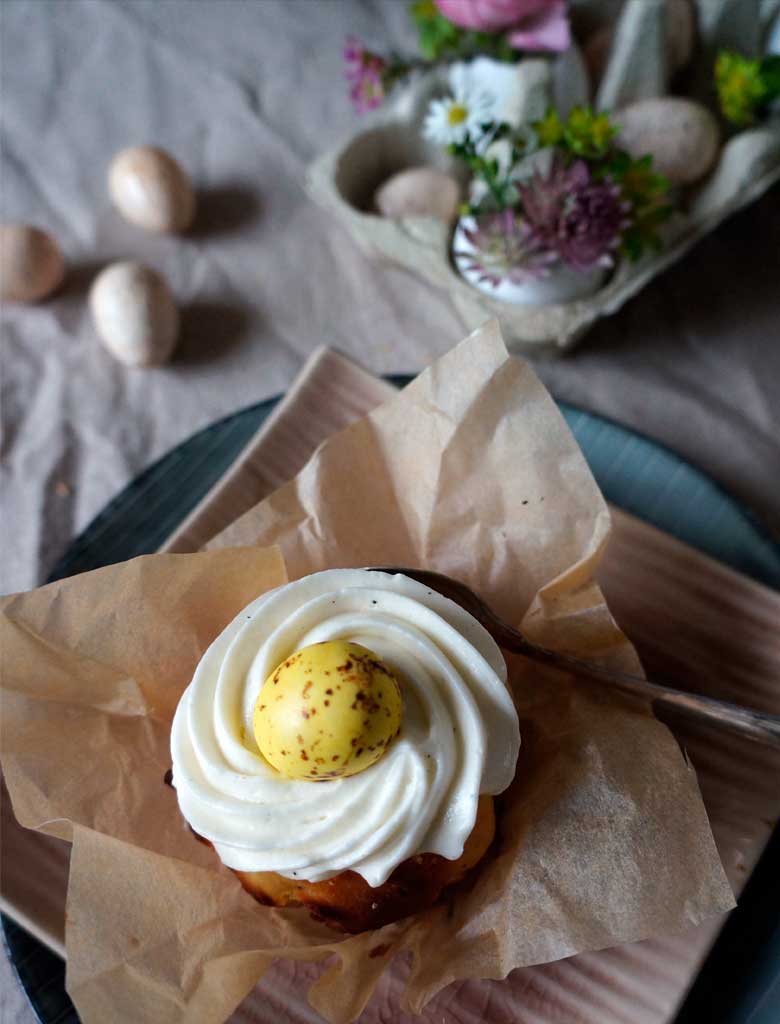 Easter calls for the color yellow.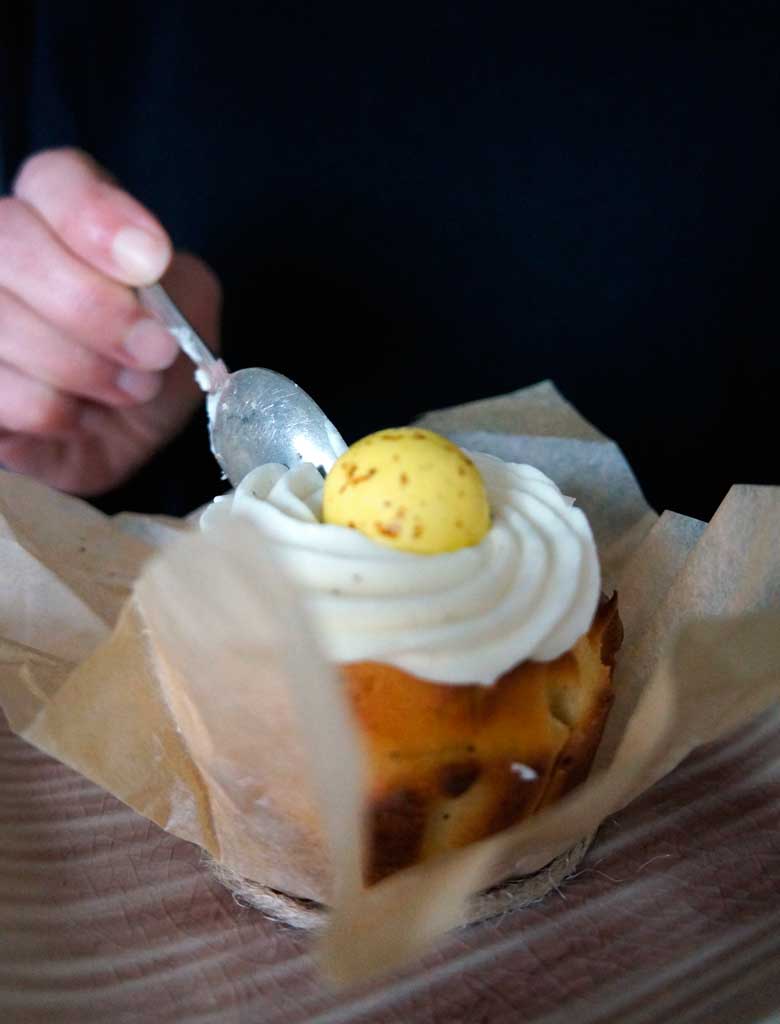 Lemon & poppy seeds muffins with a light frosting.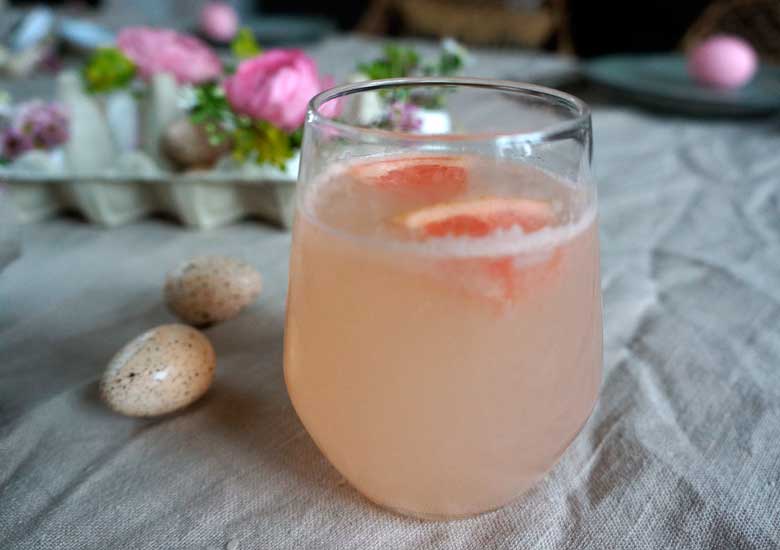 Sparcling grapefruit spritzer
Syrup
• 1/2 cup granulated sugar
• 1 cup water
• 1 teaspoon freshly sliced ginger
Spritzer:
• Slices of grapefruit
• 1/2 cup freshly squeezed grapefruit juice
• 3-4 ice cubes
• Sparkling water, to top
Ginger syrup
1. In a medium saucepan, combine the sugar and water. Bring to a boil over medium-high heat and reduce to a simmer. Simmer for about 10-15 minutes or until syrup reduces to about 1/2 cup.
2. Remove from heat and stir in the ginger. Let steep in syrup for at least 20 minutes, or until cool. Strain syrup through a fine mesh strainer to remove ginger.
3. Store in an airtight container refrigerated for up to a week.
Spritzer
4. Combine all the ingredients, except the ice cubes and sparkling water in a large cup. Mix well.
5. Divide into two glasses with ice. Top with sparkling water and mix to combine.
6. Taste and add more simple ginger syrup if needed.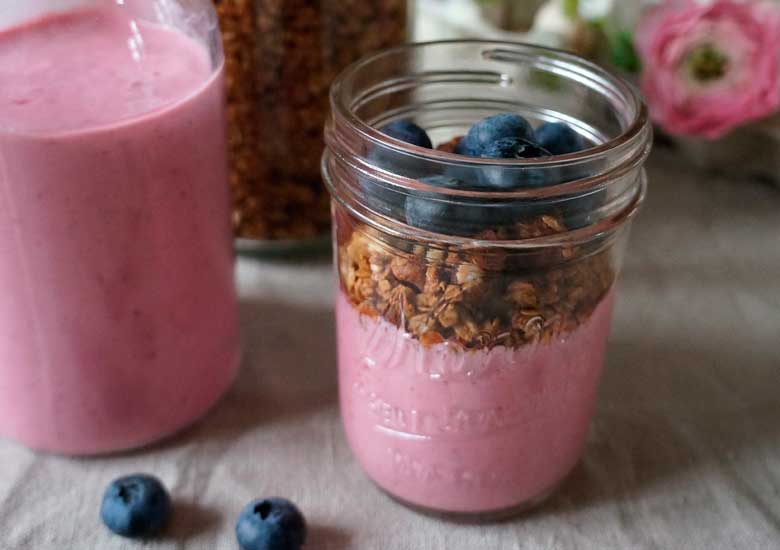 Youghurt & granola
Yoghurt:
• 1 l plain yoghurt
• 250 raspberry
• 1 tsp vanilla powder
Granola:
• 2 cups rolled oats
• 1/2 cups sunflower seeds
• 1/2 cup hazelnuts (chopped)
• 1/2 cup almonds (chopped)
• 1/2 cup pecans (chopped)
• ¼ cup flax seed
• 1 tbsp cinnamon
• 1/2 tbsp cardamom
• 1 tbsp coconut oil
• 1 tbsp water
• 1/2 cup honey
Yoghurt:
1. Mix yoghurt, raspberry and vanilla powder.
2. Refrigerate until serving.
Granola:
1. Preheat the oven to 175 degrees.Mix all ingredients.
2. Put everything on a baking sheet covered with baking paper.
3. Put the baking sheet in the oven for about 20 minutes until granolan got a golden brown color. Stir every now and then.
4. Let cool and serve with yoghurt and fresh berries.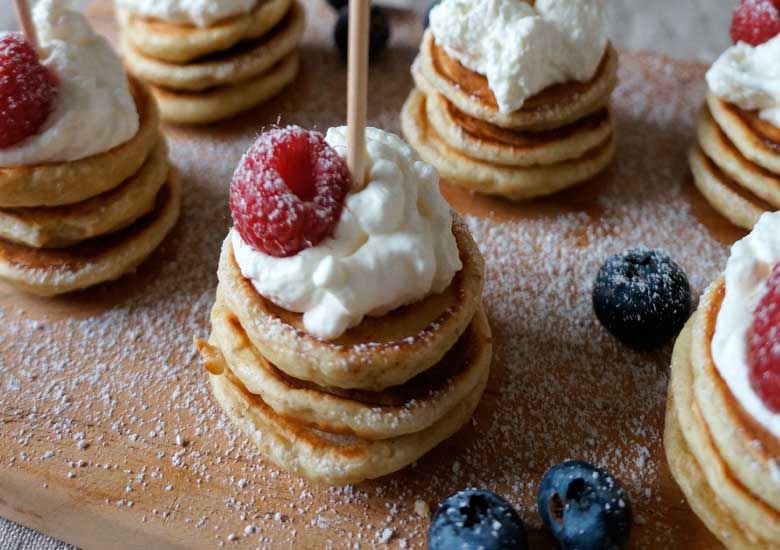 Mini pancakes
Pancakes:
• 1 1/2 cup all purpose flour
• 1 tsp baking powder
• 1/2 tsp baking soda
• 2 tpsp cane suger
• 2 tsp vanilla suger
• 1 lemon (zest)
• 2 tbsp butter
• 1 cup milk
• 1 egg
Decoration:
• 1 cup whipped cream
• 1 tsp vanilla sugar
• Fresh berries
1. Mix all dry ingredients in a big bowl.
2. Melt the butter in a saucepan. Add milk and egg and stir.
3. Mix everything together. The batter is supposed to be quite thick.
4. Use a tabelspoonful batter for each mini pancake and fry in butter until golden brown.
5. Serve with whipped cream mixed with vanilla suger and fresh berries.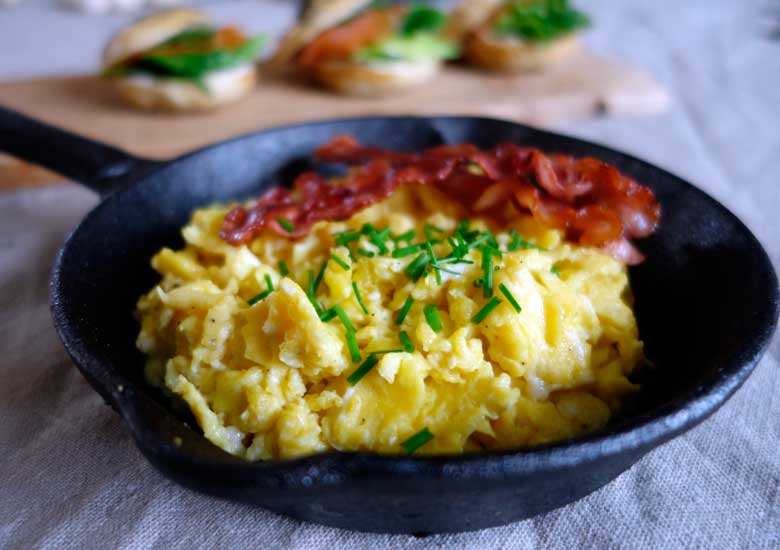 Classic scrambled eggs
• 12 eggs
• 6 tbsp milk
• Salt & pepper
• 2 tbsp butter
Serving:
• 12 slices bacon
1. In a bowl, beat eggs with milk, season with salt and pepper.
2. Pour into a pre-heated pan (low heat). Add butter and let it melt. Pour in the egg mixture without stirring for 20 seconds. Then stir with a spatula, lifting and folding it over from the bottom of the pan. Let it sit again before repeating.
3. Remove from the heat when the eggs are soft and slightly running in places.
3. Serve the scrambled eggs with crispy fried bacon.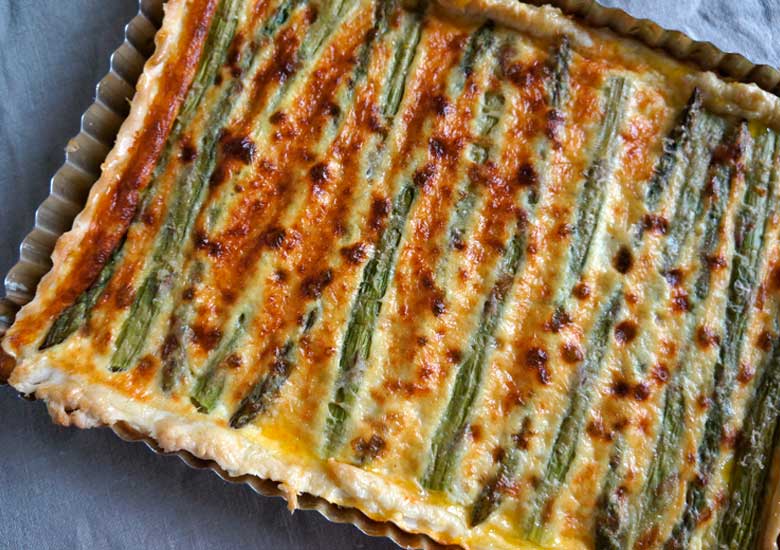 Pastry
• 1 1/2 cup flour
• 2-3 tbsp water
• 125 g butter
Filling
• Asparagus
• 200 g cottage cheese
• 3 eggs
• 1/2 cup of milk
• Parmesan
1.Put the flour in a bowl, add the butter to the flour and rub in with your fingertips until it resembles breadcrumbs.
2. Add the cold water and mix until the pastry forms a ball.
3. Wrap in cling film and chill for 5 mins.
4. Butter a 20 x 6cm deep loose-bottom tart tin, or a 35 x 12cm rectangular tart tin.
5. Heat oven to 200ºC.
6. Lightly dust the work surface with flour, roll out the pastry and line the tin.
7. Crack the eggs into a jug, whisk, then add the milk and cottage cheese and whisk again.
8. Pour into the tart tin.
9. Add the asparagus and sprinkle with grated parmesan.
10. Bake in the lower half of the oven for 30-35 mins or until the egg mix is set.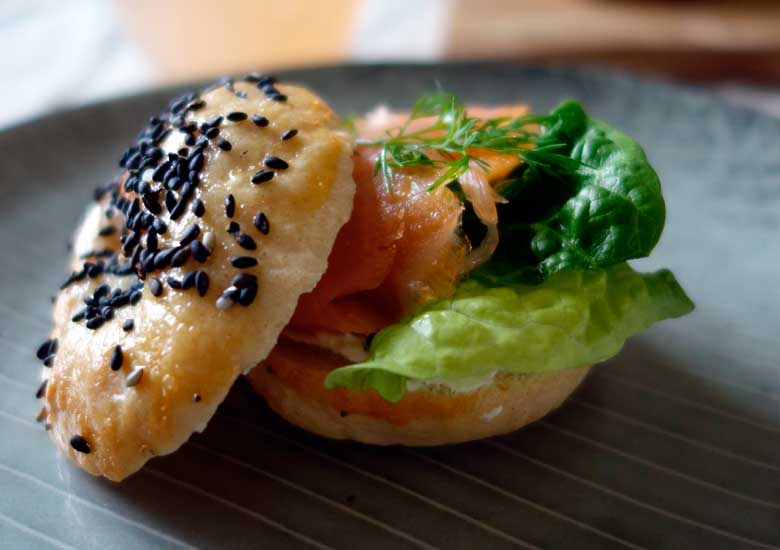 Mini bagels with salmon
Bagels:
• 25 g fresh yeast
• 2 cups milk, lukewarm
• 1 tbsp salt
• 2 tbsp honey
• 1 1/2 tbsp canola oil
• 5 – 5 1/2 cups all purpose flour
• 1 egg, for egg brush
• Seeds of your choice for the topping
Filling:
• Cream cheese
• Lettuce
• Smoked salmon
• Chives
Bagels:
1. In a bowl of a stand mixer, crumble the yeast.
2. Heat the milk until lukewarm.
3. Mix a little bit of the milk with yeast and make sure that yeast is dissolved.
4. Add rest of milk, honey, salt and oil.
5. Add half of the flour and work the dough using the dough hook in standmixer for a couple of minutes.
6. Add rest of the flour and work the dough for another 5 minutes.
7. Let the dough rest, covered with a cloth, for about 50 minutes.
8. Tip dough onto your floured work surface.
9. Divide the dough into 20 portions and form into balls.
10. Use a floured finger to make a hole in the centre of each bagel, swirling it around to stretch the dough a little, but being careful not to knock out too much air.
11. Put all your "rings" on a well floured surface and let them rest for 45 minutes, covered with a cloth.
12. Heat oven to 200C.
13. Fill a large saucepan with water and bring to boil. Place 2-3 bagels in the water at a time and boil for 1-2 minutes. Remove them with a slotted spoon.
14. Put the boiled bagels on kitchen towel and let them drain before you move them to a baking sheet covered with baking paper.
15. Brush the bagels with beaten egg and sprinkle with your chosen seeds.
16. Bake for 15 minutes or until golden brown.
17. Transfer to a wire rack to cool before you fill them with the cream cheese, lettuce, smoked salmon and chopped chives.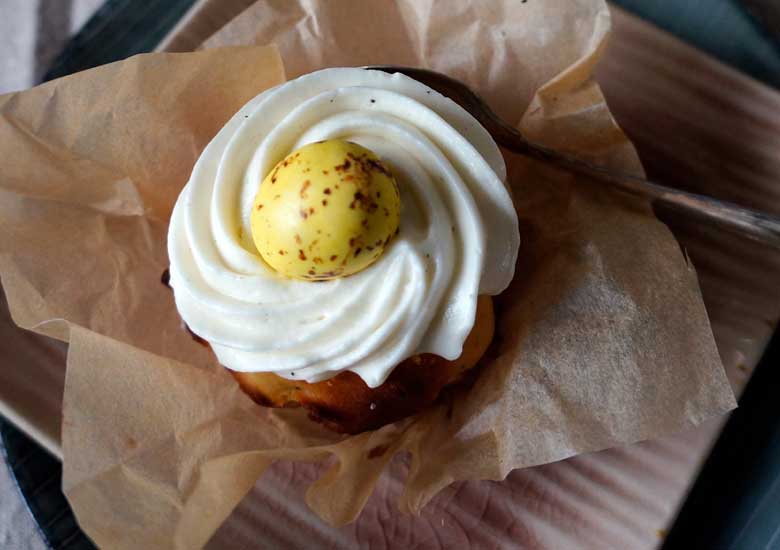 Lemon & 
poppy seed muffins
Dough:
• 100 g butter
• 3 eggs
• 1 cup sugar
• 2 tsp vanilla sugar
• 1⁄2 cup sour milk
• 1 1/2 cups of flour
• Blue poppy seeds
• 50g of almond
• 2 tsp baking powder
• 1 organic lemon
Frosting:
• 8 ounces (227 grams) cream cheese, room temperature
• 1/2 teaspoon pure vanilla extract
• 1/2 cup (60 grams) powdered sugar, sifted
• 2/3 cup (160 ml) cold heavy double cream
Decoration:
• Small chocolate easter eggs
1. Set the oven at 180 degrees.
2. Place 12 muffin cups in a muffin baking tray.
3. Melt the butter without browning.
4. Whisk eggs, sugar and vanilla sugar together in a bowl until light and foamy. Now stir butter and sour milk into the eggnog.
5. Combine flour with poppy seeds, almond flour, baking powder and finely grated peel of the lemon in a bowl. Save the lemon. Mix well and turn with the rest of the dough.
6. Put the dough into the molds and bake for about 15 minutes. Take out and cool completely.
7. Stir in cream cheese and icing sugar together and stir steady with a few drops of lemon juice at a time.
8. Decorate the muffins with frosting and small chocolate Easter eggs.
Make the frosting
1. In a bowl of your stand mixer, or with a hand mixer, beat the cream cheese until smooth.
2. Add the vanilla and powdered suger and beat until smooth.
3. Using th whisk attachment, gradually add the double cream and whip until the frosting is thick enough to pipe. Add more sugar or cream as needed to get the right consistency.