Standing in my white kitchen in our little house far, far away from America, on the other side of the Atlantic Ocean. Thinking of all the times I have been to New York, Chicago, Washington, Seattle and San Francisco. Working as a stewardess for almost 15 years has given me some great memories and some lovely experiences from all over the states. I have had cherry pie and "A damn fine cup o' coffee!" at Twede´s café, seen the sea lions play at pier 39 after a guided tour to Alcatraz, I have drunk champagne at new years eve in Chicago, done too much shopping and have had some fantastic afternoons drinking coffee at Dean & Deluca in New York, taken the traditional photo of myself in front of the White house… OMG I miss those days! America will always have a place in my heart and I can't wait for the next time when I will cross the Atlantic Ocean.
Let's celebrate America and Independence day with this kiddo friendly stars & stripes ice cream cake.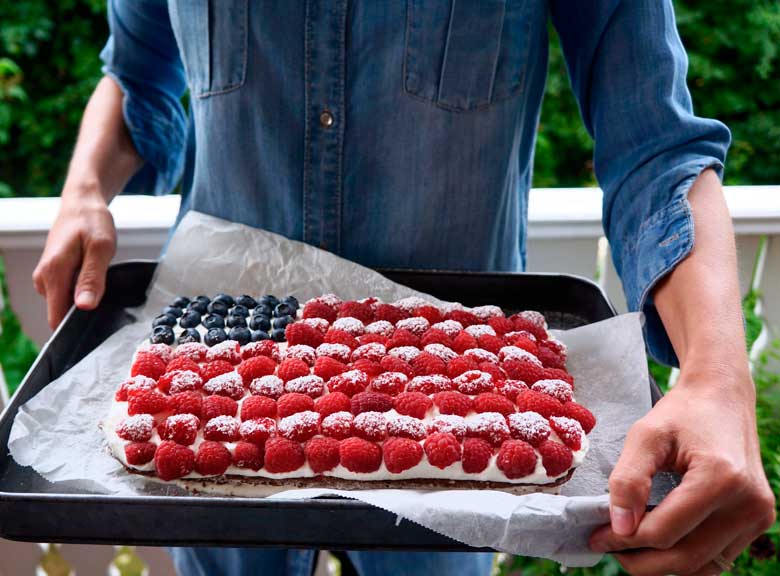 You will need:
For the cake:
• 100 g dark chocolate
• 4 eggs
• 225 g cane sugar
• 60g all-purpose flour
• 40 g potato starch
• 20 g cocoa
• ½ tsp. baking powder
• ½ tsp. Maldon salt
For the filling:
• 1 l vanilla ice cream
For decoration:
• 250 ml heavy cream
• Raspberry
• Blueberry
• Powder sugar
If you´re not going to serve the cake immediately, cover the cake with vanilla ice cream instead of whipped cream. Decorate with all the berries and leave in the freezer until serving.
How to:
Make the cake:

Preheat the oven to 200° celsius.
Melt the chocolate.
Beat eggs and sugar until light and fluffy.
Mix all the dry ingredients and add to the batter together with the melted chocolate. Carefully beat until combined.
Pour the batter into a baking paper-lined baking pan 30cm x 40cm .
Bake for about 8 minutes. Let cool completely.
Divide the cake into two.
Whip the cream to stiff peaks.
Beat the ice cream and spread it over one of the cakes.
Add the other cake and cover the top with whipped cream.
Make the flag by placing blueberries in one corner and then line raspberries for all the white stripes, leaving space for the red stripes.
Cover the blueberries and then cover the raspberries with powder sugar. Now you've got the white stripes.
Fill out the empty lines with raspberries, the red stripes.