Theo turned 5 a few weeks ago and when I asked him what kind of party he wanted he did't hesitate with his answer…. Pirate party. So a pirate party it was.
Having a theme party is so much fun. There are so much inspiration and cool ideas to find in books, magazines and of course on the Internet. The only problem with theme party is to limit oneself and find time to create all the cool stuff….
So ok, it takes some hours in the kitchen and a couple more to prepare the games, but trust me, when you see the smile on the face of your little kid, it's all worth it (and as a bonus, you are going to have so much fun during the preparations).
Welcome to Theodor's Pirate Party.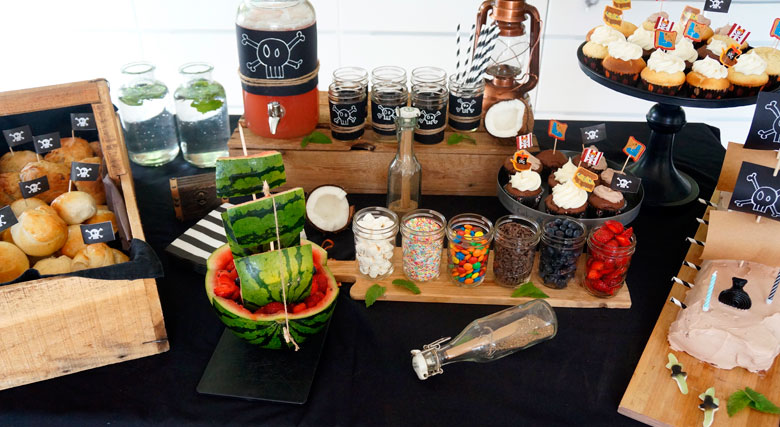 Use sand, coconuts, bottles and old lamps as decoration.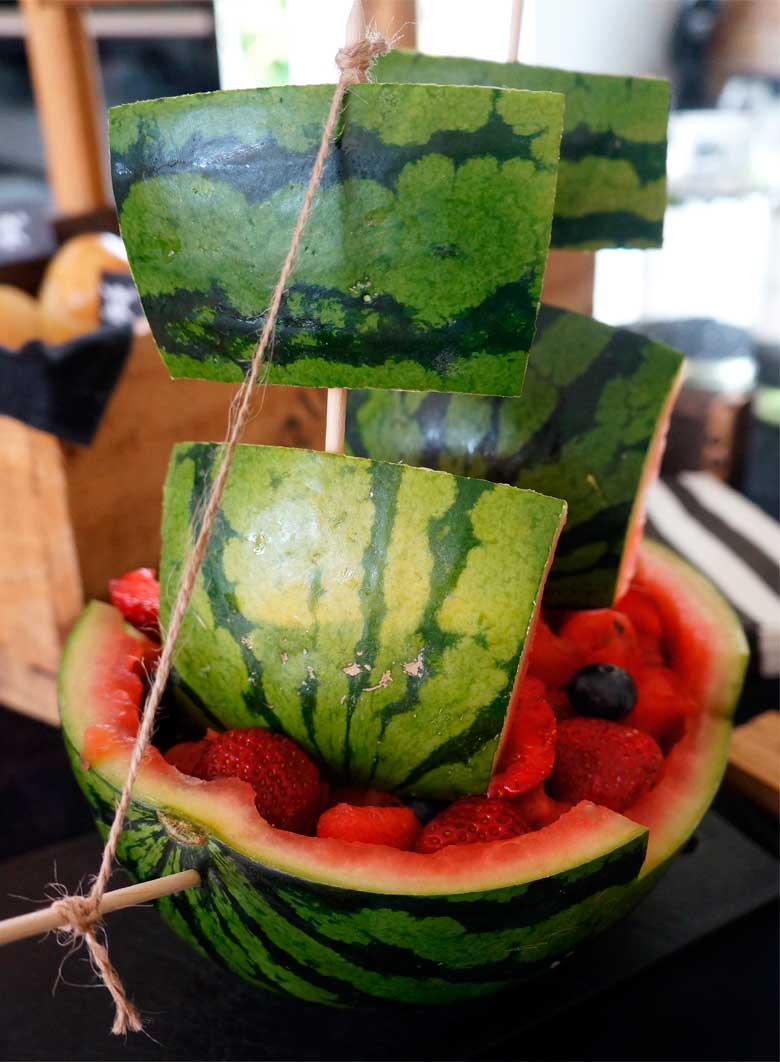 Make a pirate ship out of a watermelon. The kids will love it!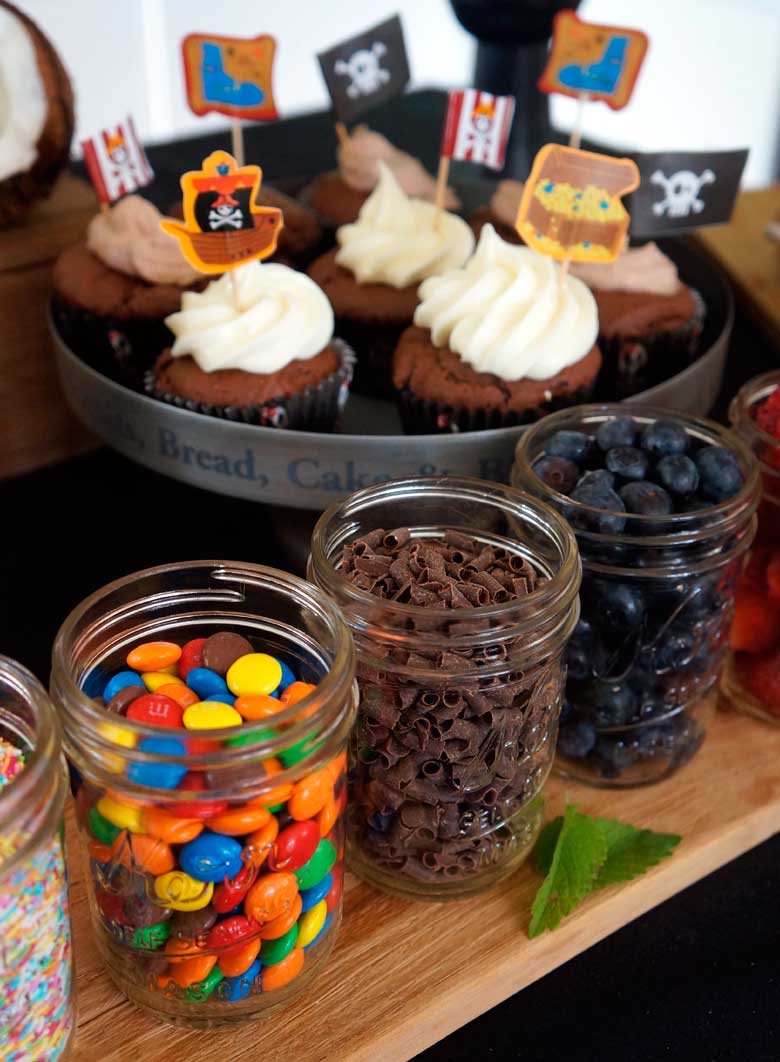 D.Y.C – Decorate Your Cupcake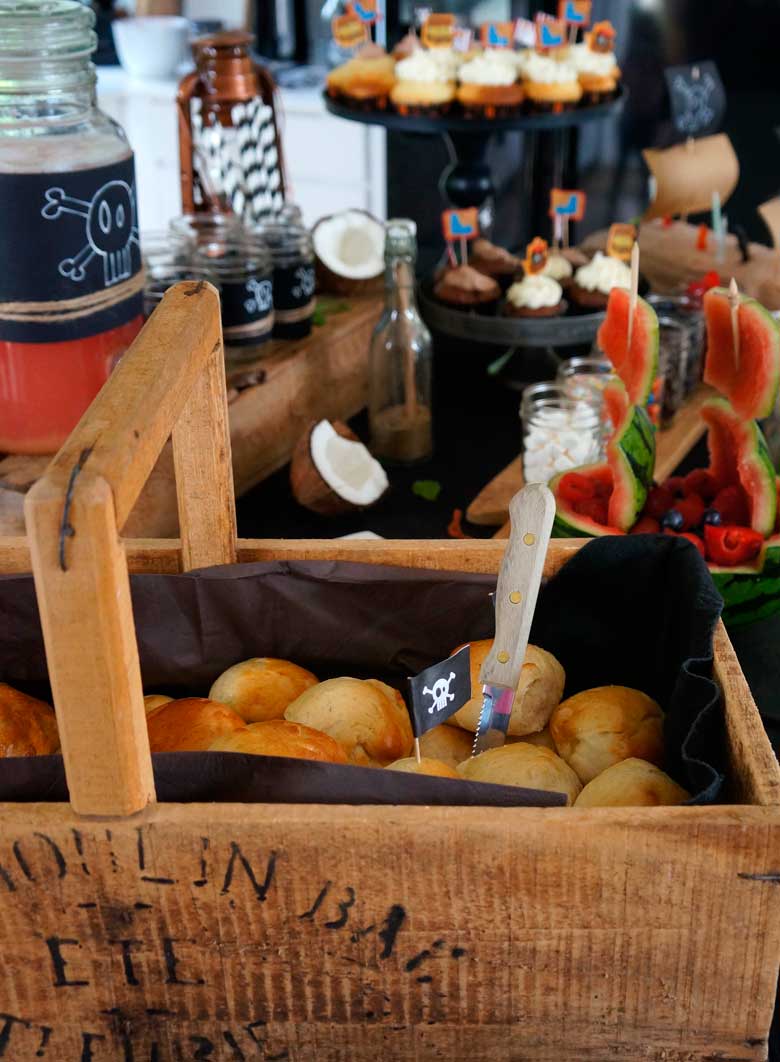 Serve your danish birthday buns with butter, cheese and jam.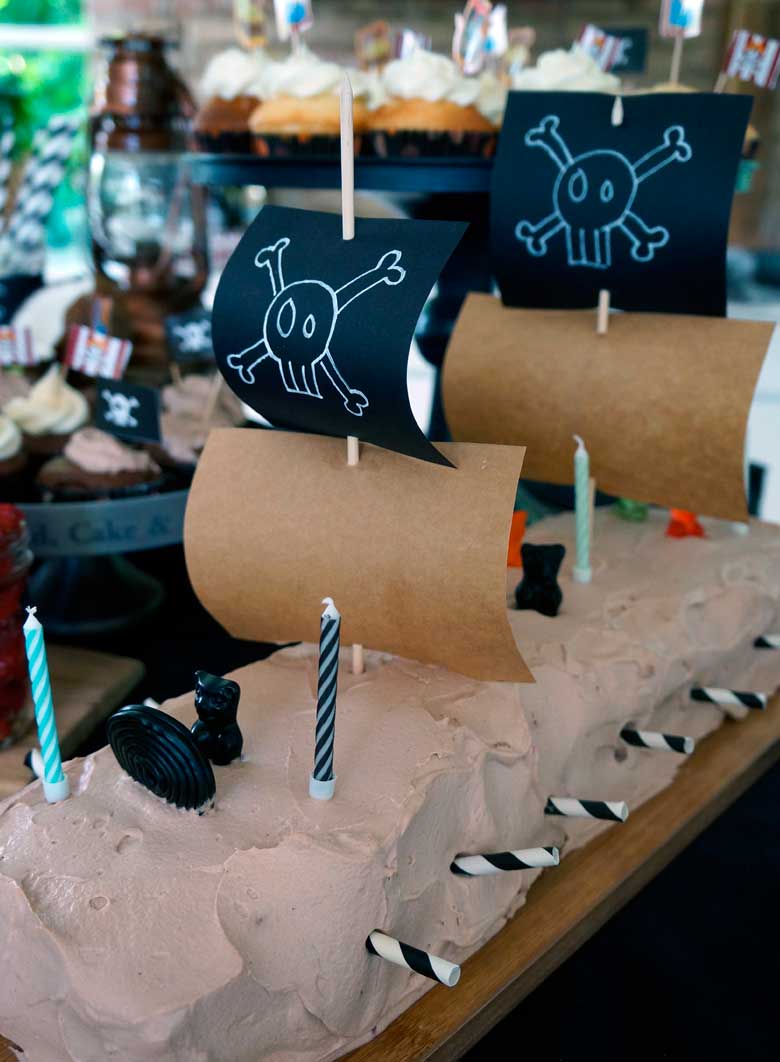 Have fun and create your own pirate ship cake.
INVITATION
Shiver me timbers and Ahoy mates
Come aboard to a Pirate Party for
CAPTAIN THEODOR
And help him find the buried treasure.
The pirate party set sail on
Saturday, June 11th 2016
13:00 pm-16:00 pm
at Scull ave. 5, Neverland
 Arrrrsvp or walk the plank by June 4th.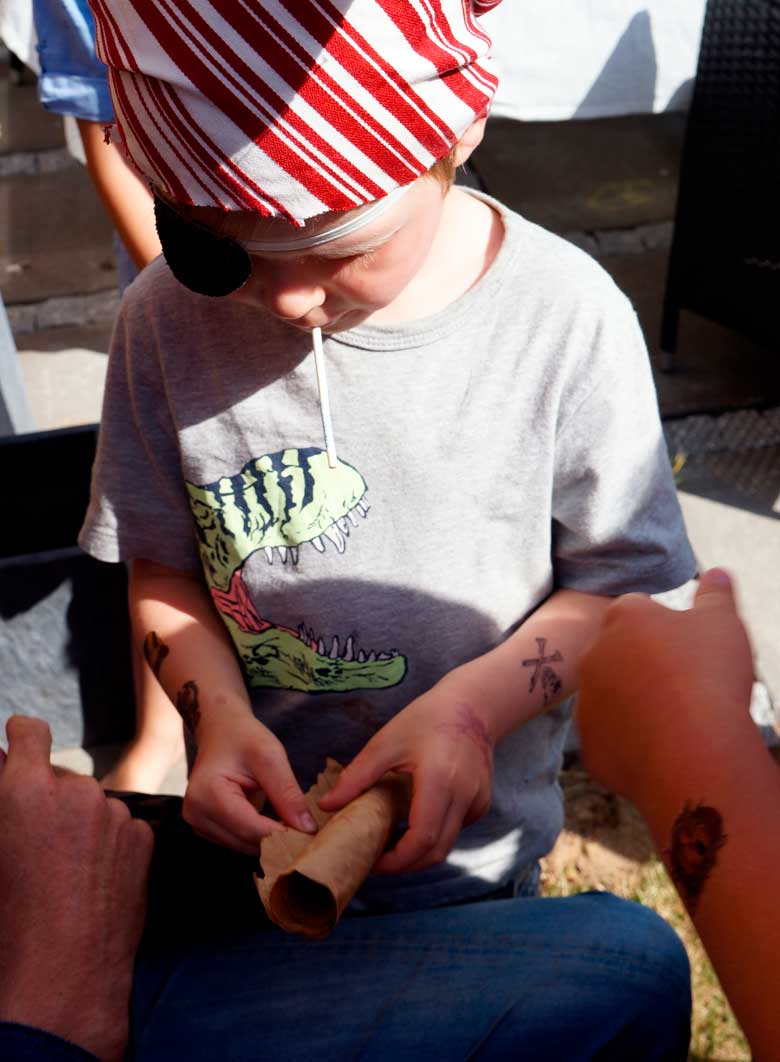 Now all set with an eye patch, bandana & a tattoo.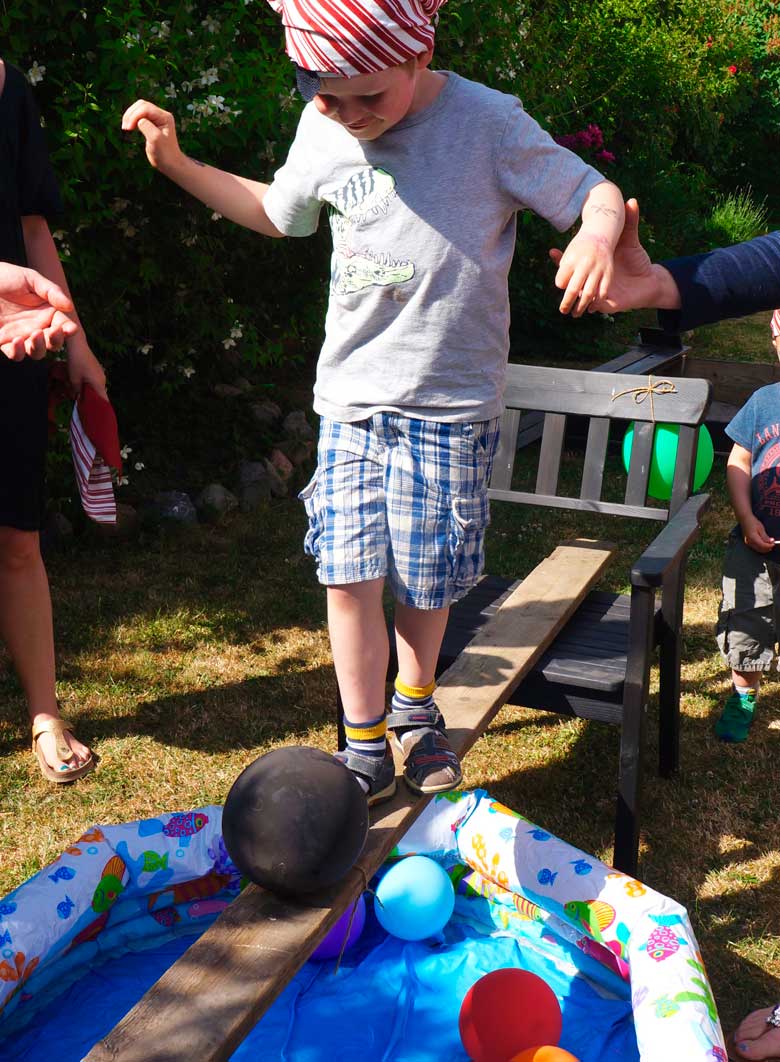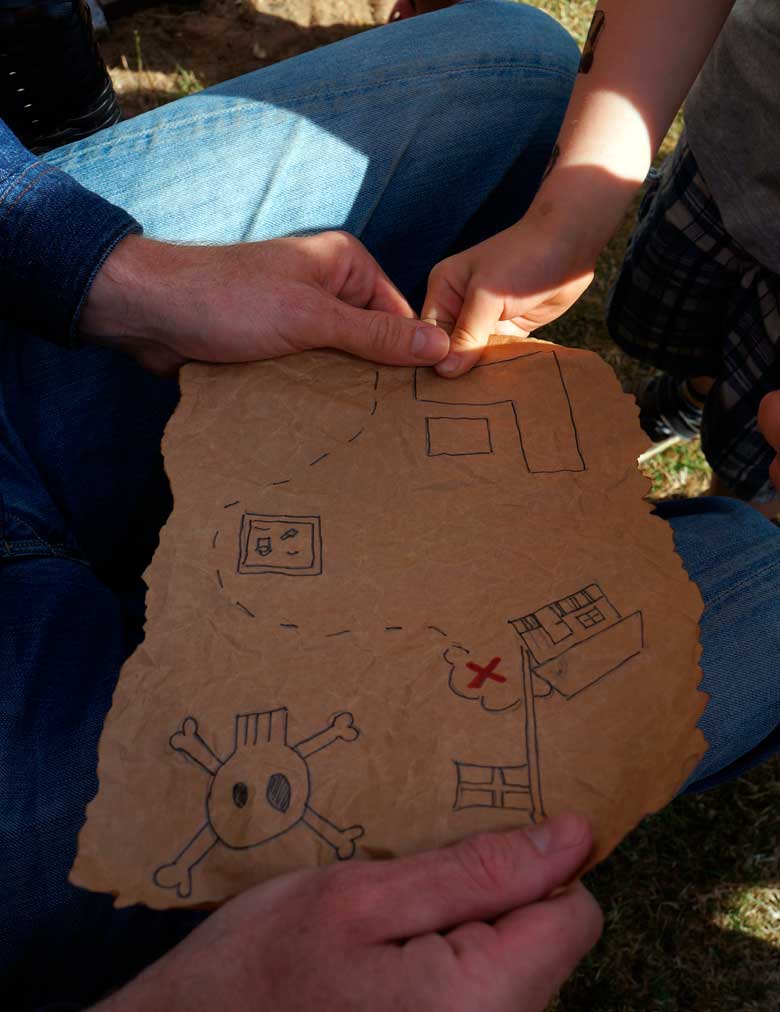 The MAP! The one and only.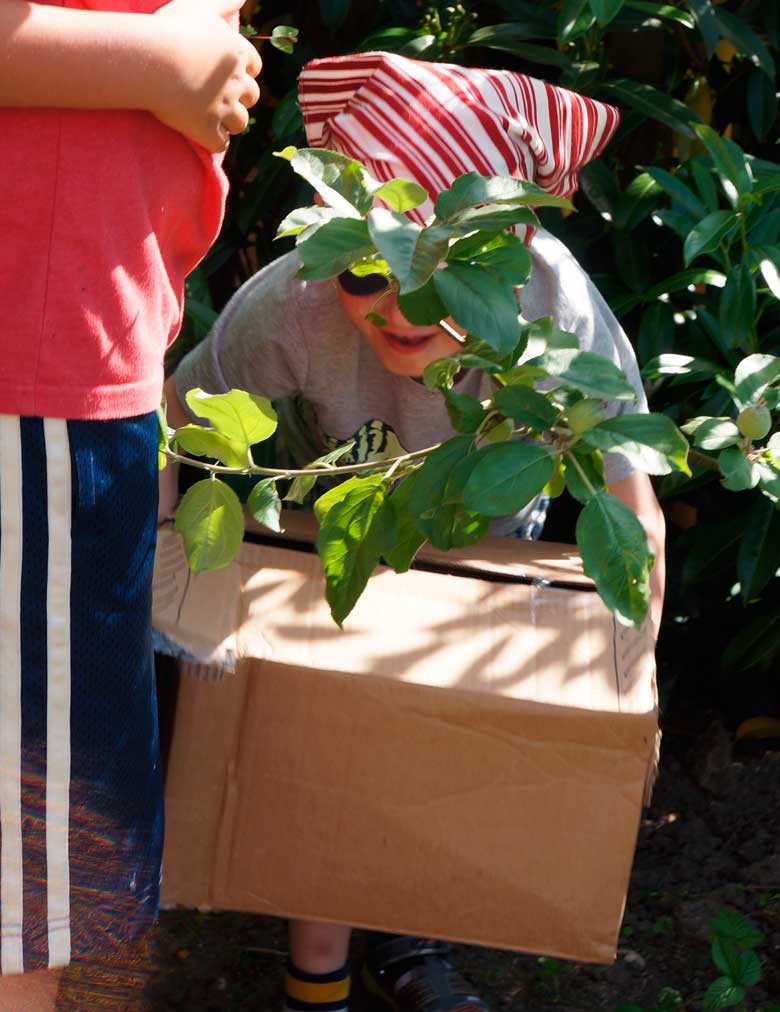 The treasure – bags of goodies.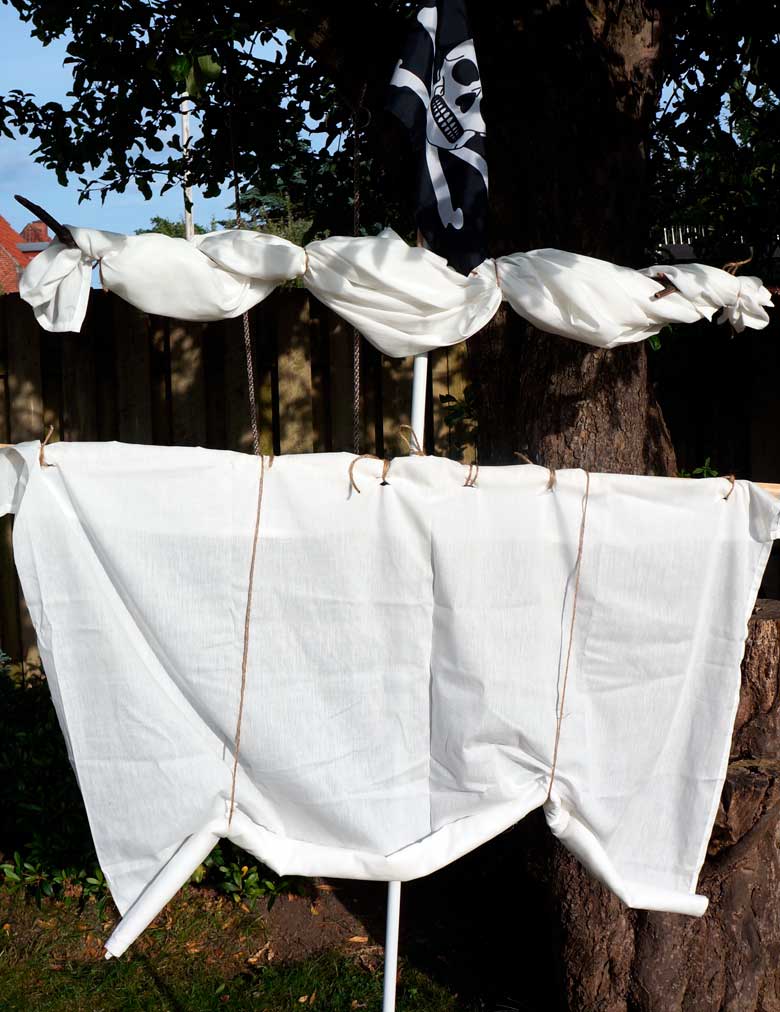 Easy decorate your pirate party with a homemade sail.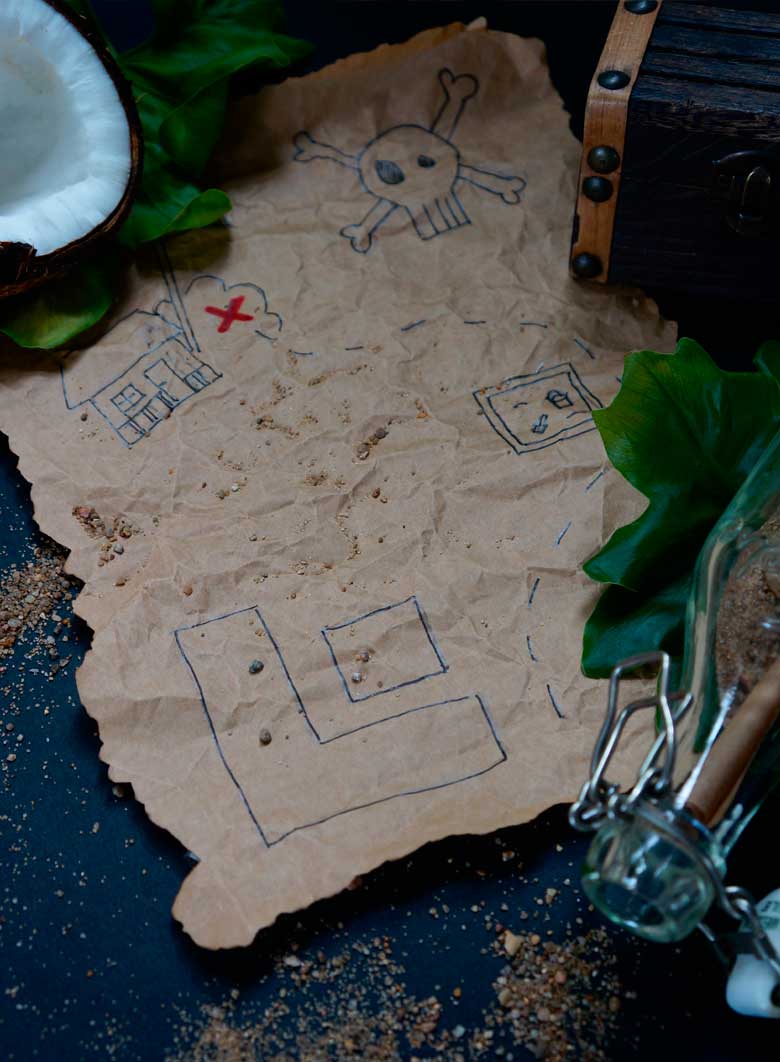 Don't make the map to difficult for the younger children. They won't have patience for that.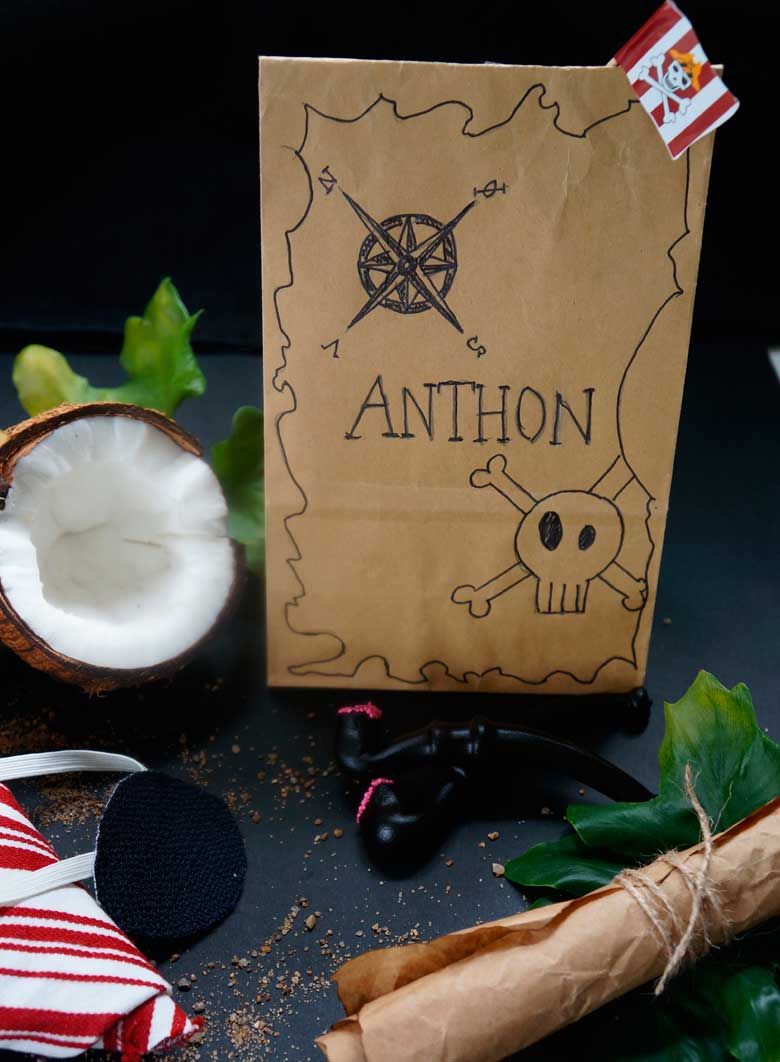 Make the bags of goodies personal.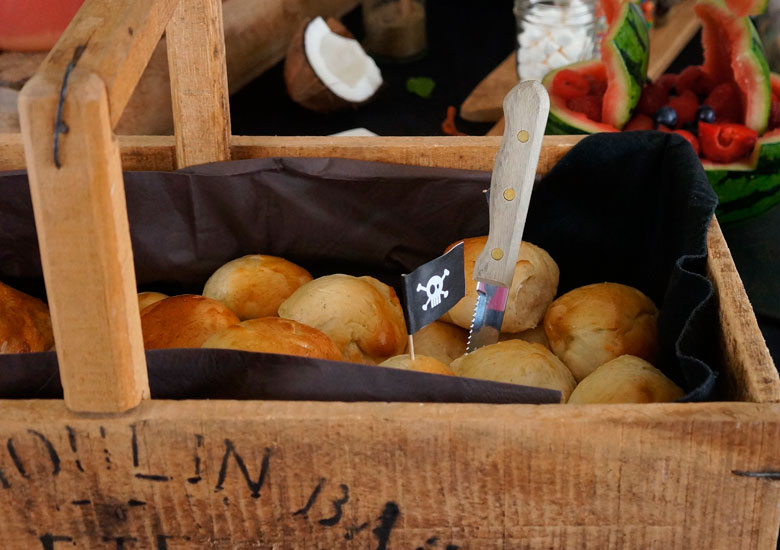 Danish birthday buns
50 g yeast
250 ml milk
500 g all-purpose flour
50 g caster sugar
1 teaspoon salt
2 teaspoons ground cardamom
75 g butter, soften
1 egg
For the egg wash:
1 egg
How to:
1.Heat the milk until lukewarm.
2.Crumble yeast into the bowl of a stand mixer. Add some of the milk and stir until yeast is completely dissolved.
3.Add the rest of the milk, half of the flour and all the other ingredients.
4.Work the dough using the dough hook for a minute and then add the rest of the flour.
5.Work the dough for another 5 minutes.
6.Cover with a cloth and let the dough rest for 30 minutes.
7.Form balls of dough, about 60-70 grams, for each bun. Cover with a cloth and allow to rise for 30 minutes.
8.Heat oven to 225o C/440 F
9.Lightly brush each bun with beaten egg.
10.Bake for 12-15 minutes.
11.Serve with butter, cheese and marmalade.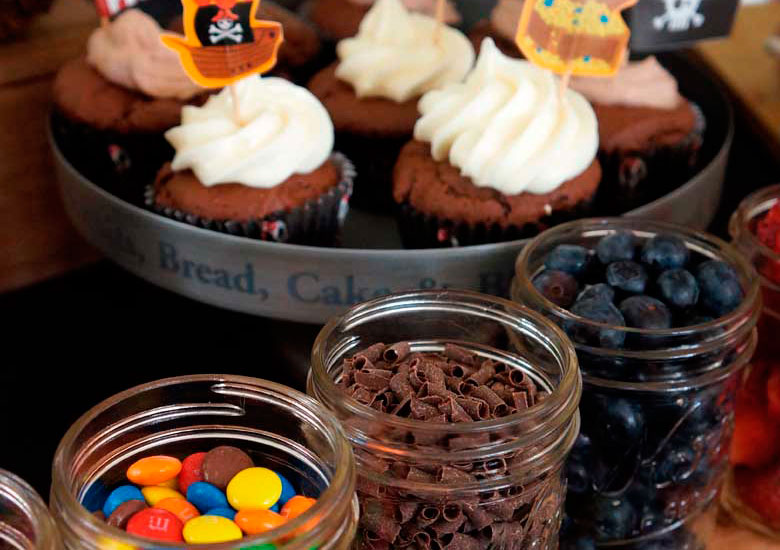 D.Y.C
Classic cupcake:
100 g butter
100 ml milk
1 lemon (zest and juice)
3 eggs
225 g caster sugar
1 teaspoon vanilla sugar
195 g all-purpose flour
2 teaspoons baking powder
1 pinch of salt
Chocolate cupcake:
Same as classic cupcakes but no lemon and add:
2 tablespoons cold coffee
4 tablespoons cacao
100 g dark chocolate 70%
Frosting:
120 g butter (soften)
600 g powdered sugar
2 teaspoons vanilla sugar
2 tablespoons fresh lemon juice
200 g cream cheese
To decorate:
Mini marshmallows
M&M´s
Sprinkles
Blueberries
Strawberries
1.Preheat the oven to 175C (350F) and line 12 muffin tins with paper cupcakes liners.
2.Beat eggs, caster sugar and vanilla sugar until light and fluffy.
3.Melt the butter, add the milk and mix with the batter. (Chocolate cupcakes: also add the coffee)
4.Mix flour, baking powder and salt and add to the batter. (Chocolate cupcakes: also add cacao)
5.Add zest and juice from the lemon. (Not for chocolate cupcakes, instead melt the chocolate and stir into the batter)
6.Bake for about 15 minutes until golden brown. Let cool.
How to make the frosting:
1.In a bowl of a stand mixer, or with a hand mixer, beat the cream cheese until smooth. Add the butter and beat again until smooth.
2.While you keep beating, sift the powdered sugar into the cream cheese mix.
3.Add vanilla sugar and lemon juice and beat until smooth.
4.Either spread the frosting onto the cupcakes with a knife or use a large open star decorating tip to pipe the frosting.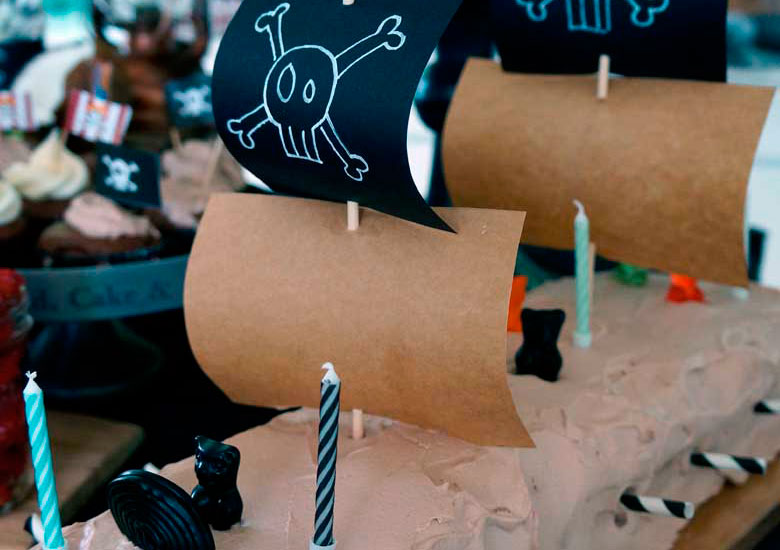 Pirate ship cake
4 eggs
135 g caster sugar
90 g all-purpose flour
500 g strawberries
500 g heavy cream
2 tablespoon drinking chocolate powder
vanilla cream
Gummy bears
Straws
Liquorice wheel
Pirate sails made out of paper and thin skewers
1.Mix eggs and sugar until light and fluffy.
2.Add the flour and stir until combined.
3.Pour the batter into a rectangular baking form and bake in preheated oven(175C/350F)for about 15 minutes.
4.Allow to cool.
5.Meanwhile add the drinking chocolate powder to the cream and beat until light and fluffy.
6.Divide the cake into three and fill between the layers vanilla cream and sliced strawberries.
7.Cover the whole cake with the light brown whipped cream.
8.Decorate the cake with candies and paper pirate sails.
Tell a story about the amazing Jack the Pirate (who just might have been the birthday child's great, great, great grandfather) and the secret of him – a buried treasure.
But there is a catch how to find the treasure. – you must be a real pirate. The only way to become a real pirate is to attend the pirate school, where you will get "the 3 must haves for a pirate":
A eye patch
A bandana
A tattoo
After succeeding one challange the kids get one of the "must haves". The 3 challenges could be:
Hit a marked spot by throwing a canon ball (black water balloons)
Dig in sand after a lollipop covered in foil.
Walk the plank (place a chair on each side of a baby pool and let a plank lean on the two chairs)
After the kids have transformed to a bunch of small pirates it´s time for the big treasure hunt.
Draw a treasure map and hide a box with bags of goodies.