Still some lovely high temperatures here in Denmark and it is hard to believe that autumn is on its way. But in our garden the apple trees clearly tell us that it is September and not July. They are overloaded with apples. I do try to use them all but it seems to be impossible. I have made apple compote, freshly squeezed apple juice, pancakes with apple and our BBQ dinners now end with all kinds of different apple cakes instead of strawberries and ice cream. With the many different possibilities for serving apples I guess that I at least won't run out of recipes, just time….
Love Alexandra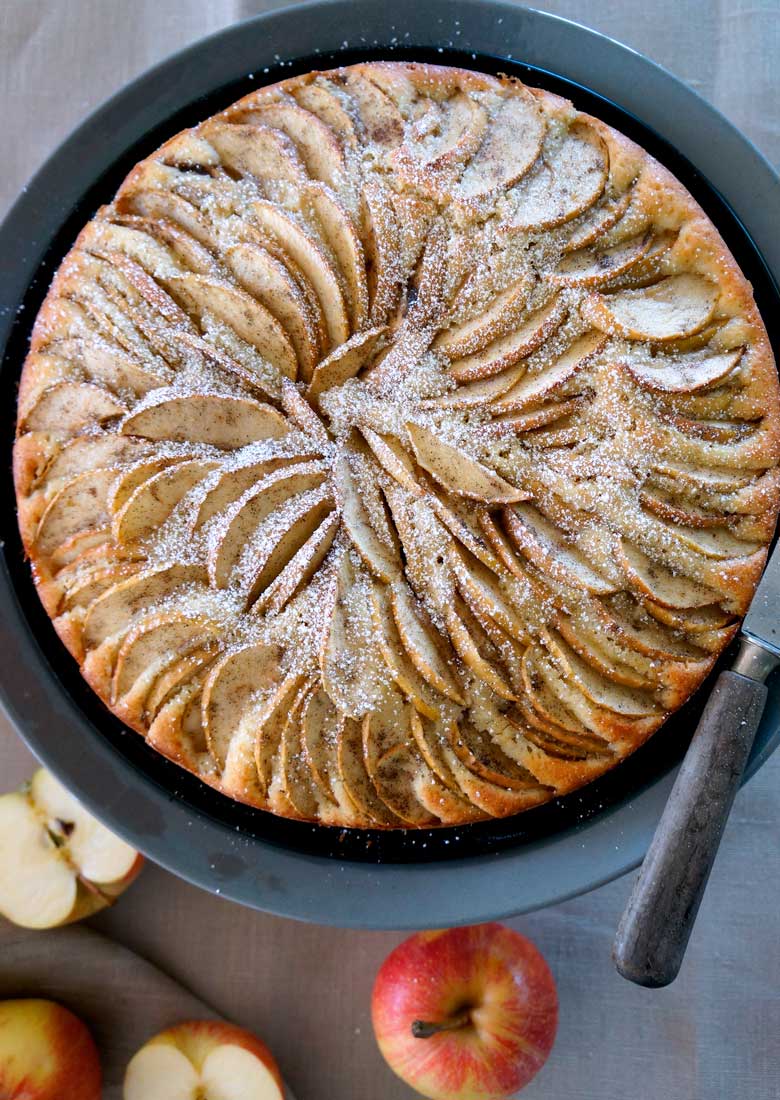 You will need:
• 3 apples
• 1 1/2 teaspoon cardamom
• 1 1/2 tablespoons sugar
• 125 g butter
• 1 1/2 cup caster sugar
• 1 teaspoon vanilla sugar
• zest of one lemon
• 2 eggs
• 2 1/2 cups all-purpose flour
• 1/2 teaspoon baking powder
• 2 tablespoons milk
Serve the apple cake with some good vanilla ice cream or custard.
How to:
Preheat the oven to 175 C (350 F).
Butter a 24 cm., cake pan, preferably with removable edge.
Melt the butter and let it cool.
Cut apples into thin slices and mix them with cardamom and sugar. Set aside.
Stir the sugar, vanilla sugar and lemon zest into the melted butter.
Add one egg at a time and beat so that they blend well with the batter.
Mix flour and baking powder and add gradually into the batter.
Pour the batter into the cake pan. Press down lightly on the apple slices making circles in the batter.
Bake the cake in the preheated oven for about 25-30 minutes, until a tester comes clean.
Allow the cake to cool for about 10 minutes before removing it from the pan.