As you've already figured out we LOVE theme parties! We love everything from coming up with ideas, planning, decorating, preparing the food and not least of all spending precious time with family and friends. Therefore, we utilize every opportunity to celebrate. When Rosa'a birthday came up in October we knew exactly what kind of party it should be… A Tea Party!
We had, for quite some time, talked about how fun it would be to have a Tea Party. We had a clear idea of what we would serve and how the setting should be. Now we had a great excuse to be together with all our best friends. So if you also dream about throwing a tea party, we show you how, right here…
Love Alexandra & Rosa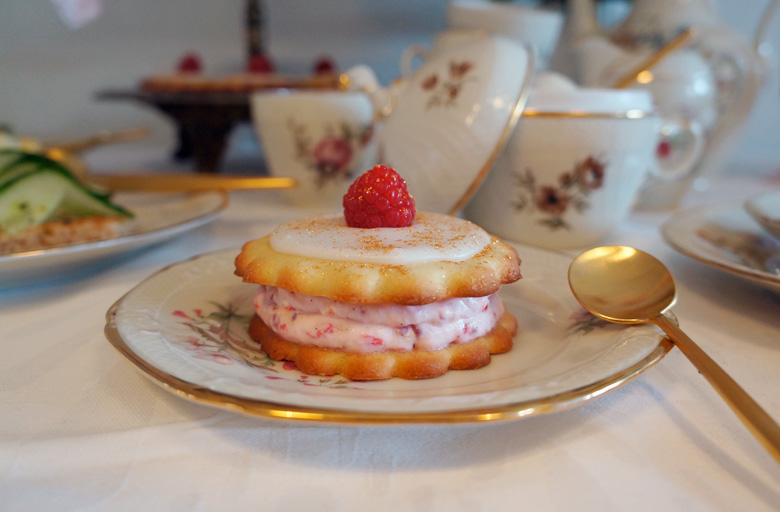 These classic Danish cakes called "Medaljer" taste heavenly and are actually quite easy to make.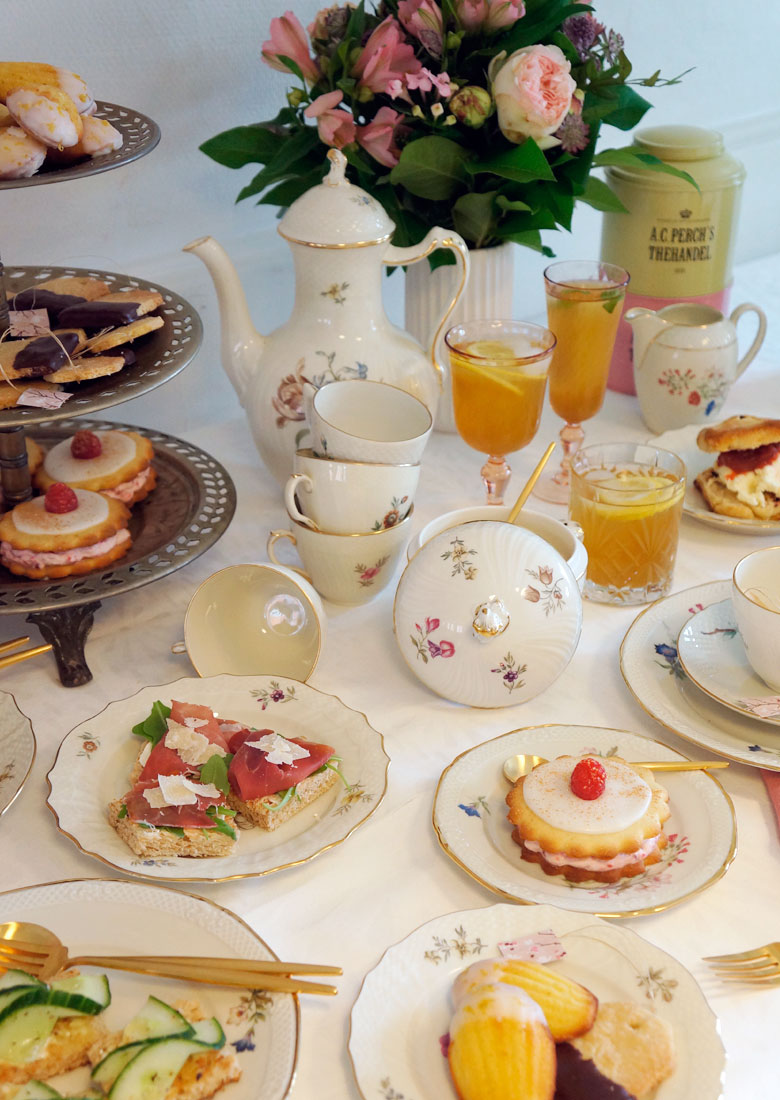 Let the food do the talking and keep the setting simple.
It was hard to pick which tea to drink…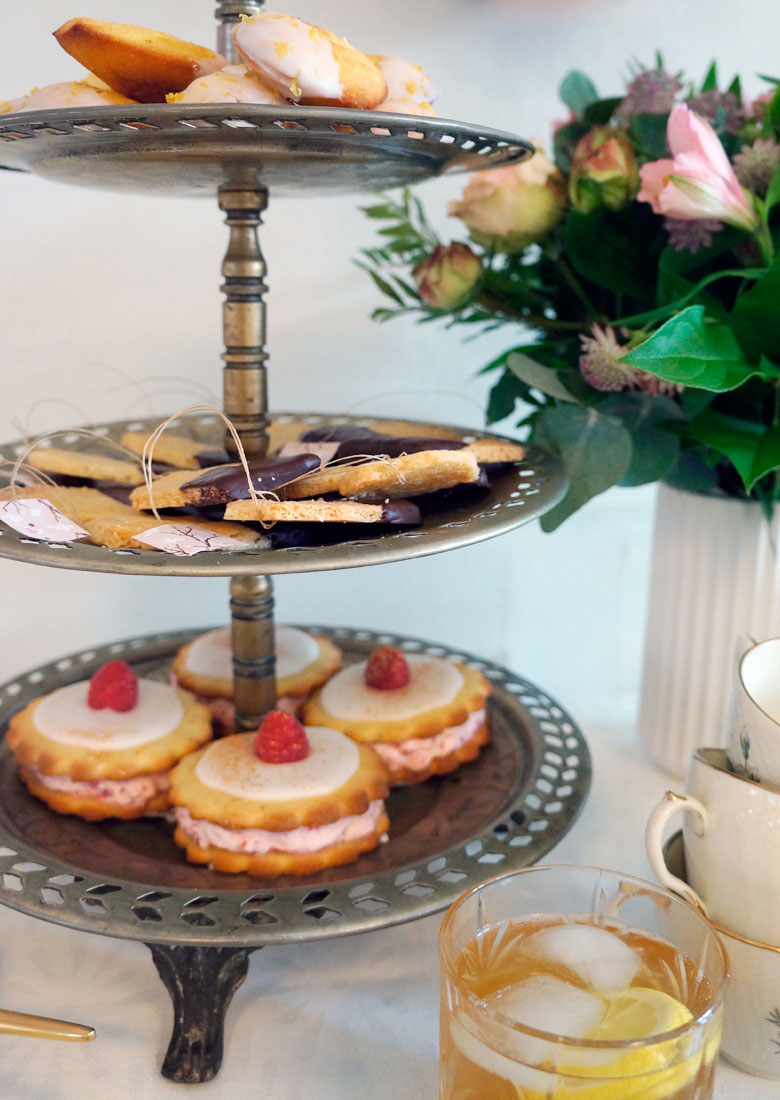 A tier cake stand always makes a beautiful display.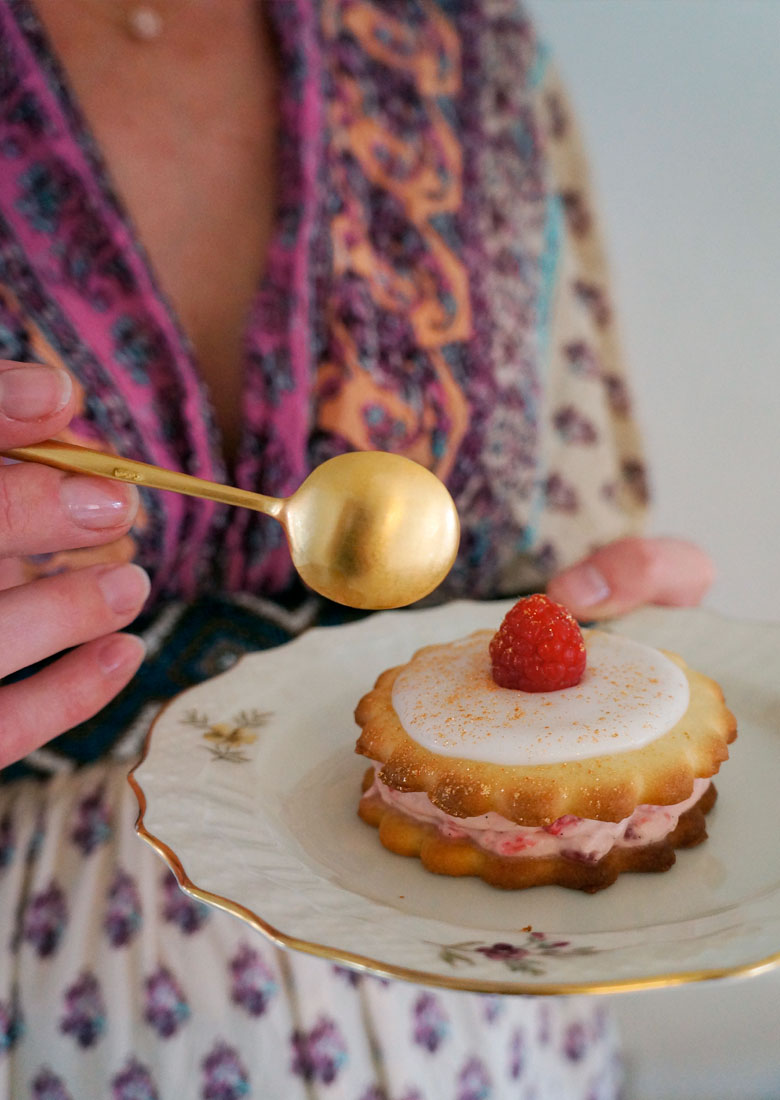 The treasure – bags of goodies.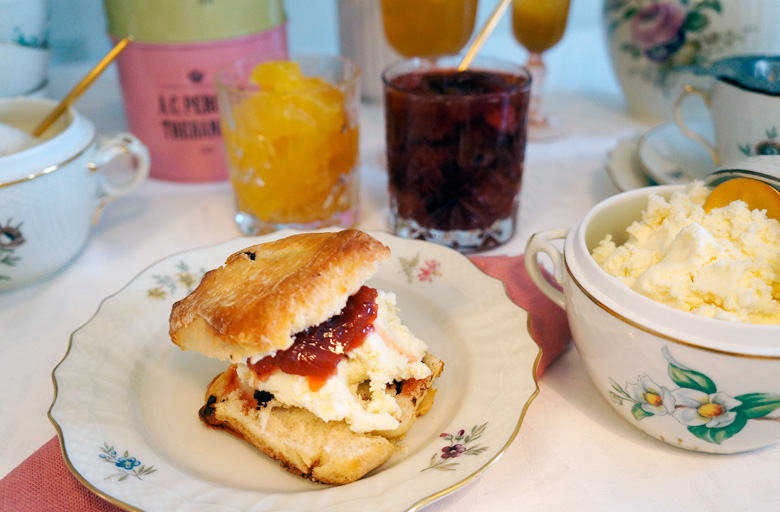 Scones and clotted cream is a tea party must have!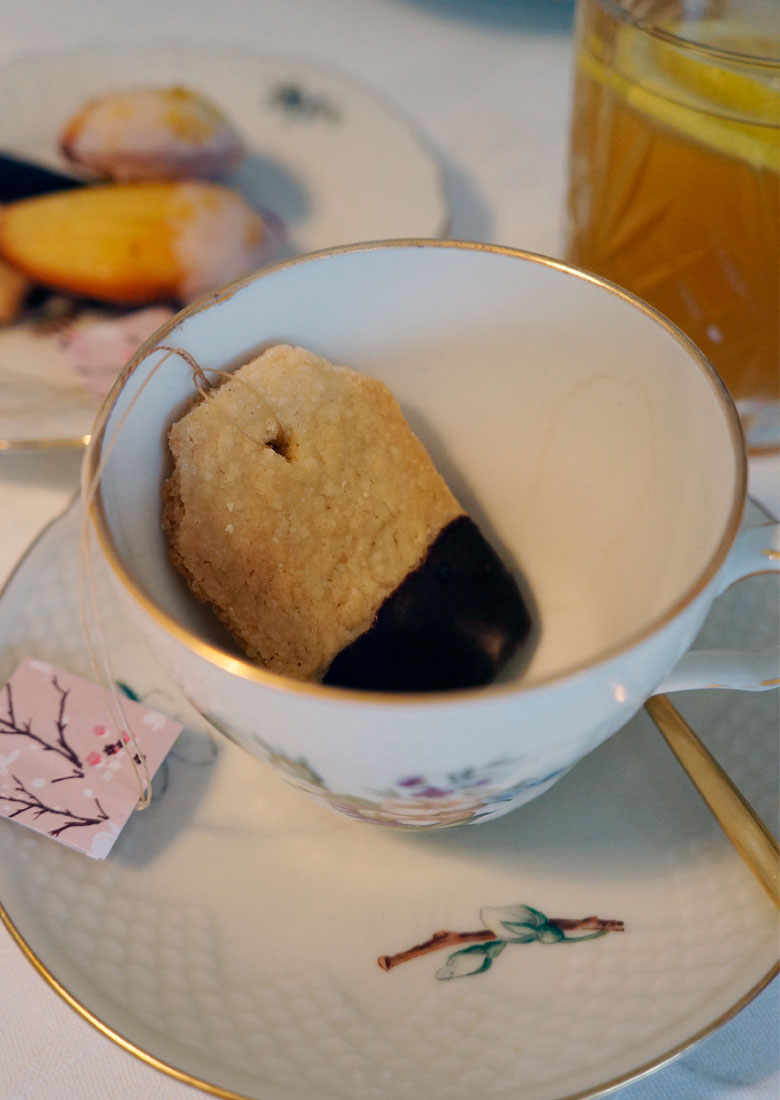 These tea bag biscuits are almost too cute to eat!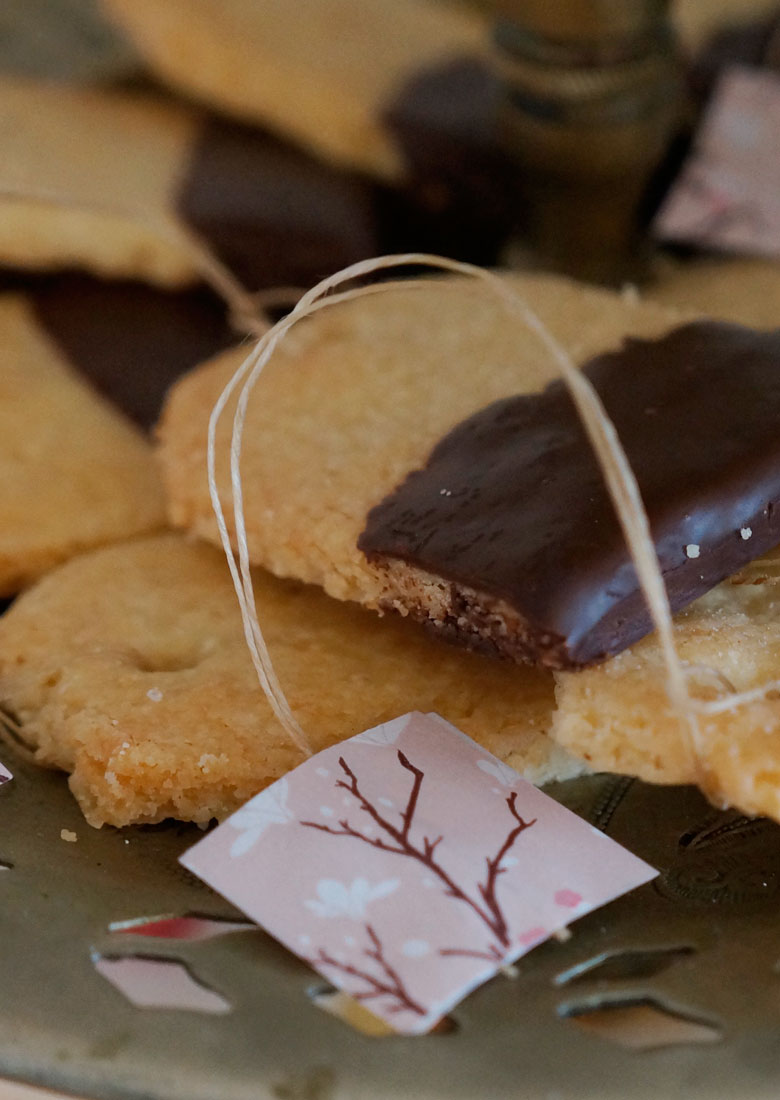 Make the labels out of wrapping paper.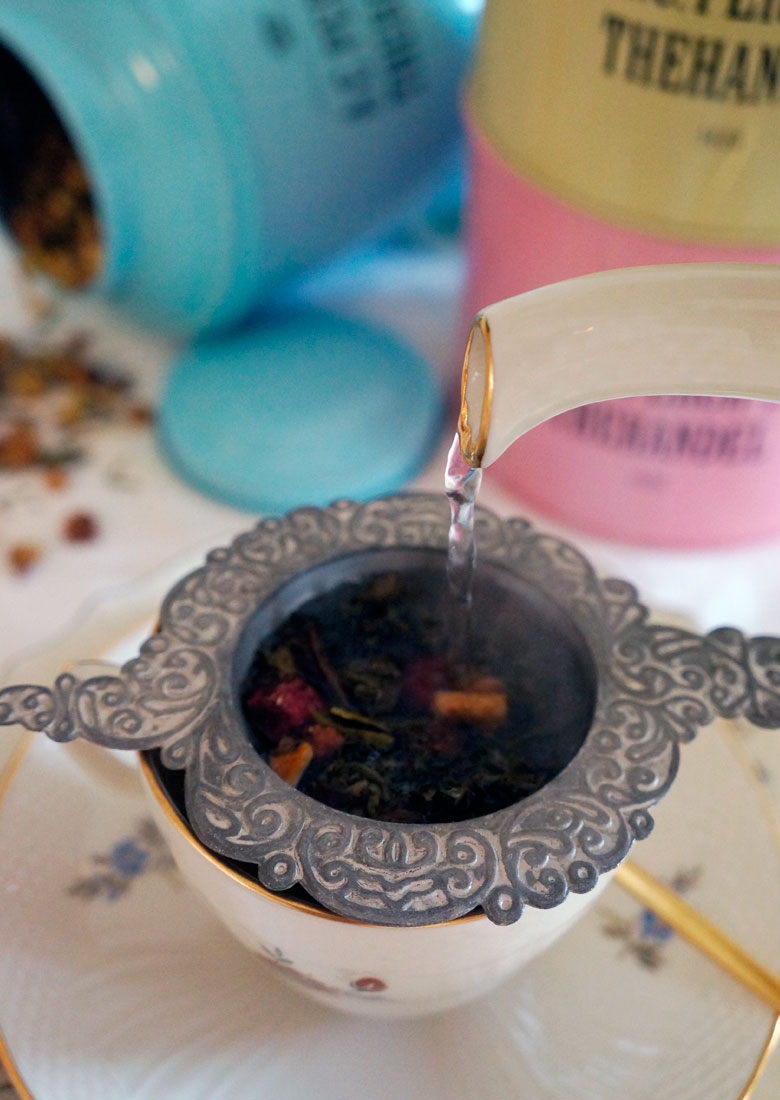 Remember to use the right water temperature.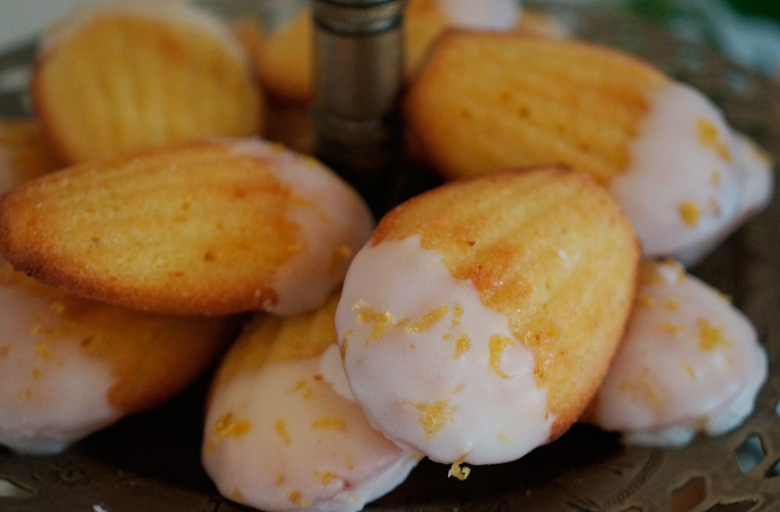 So simple and exquisite. These lemon Madeleines are perfect for a tea party.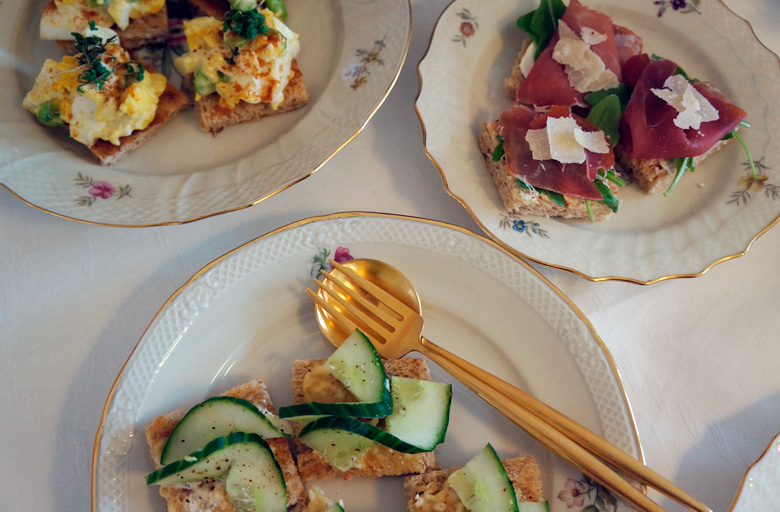 No tea party without finger sandwiches. We made three different kinds…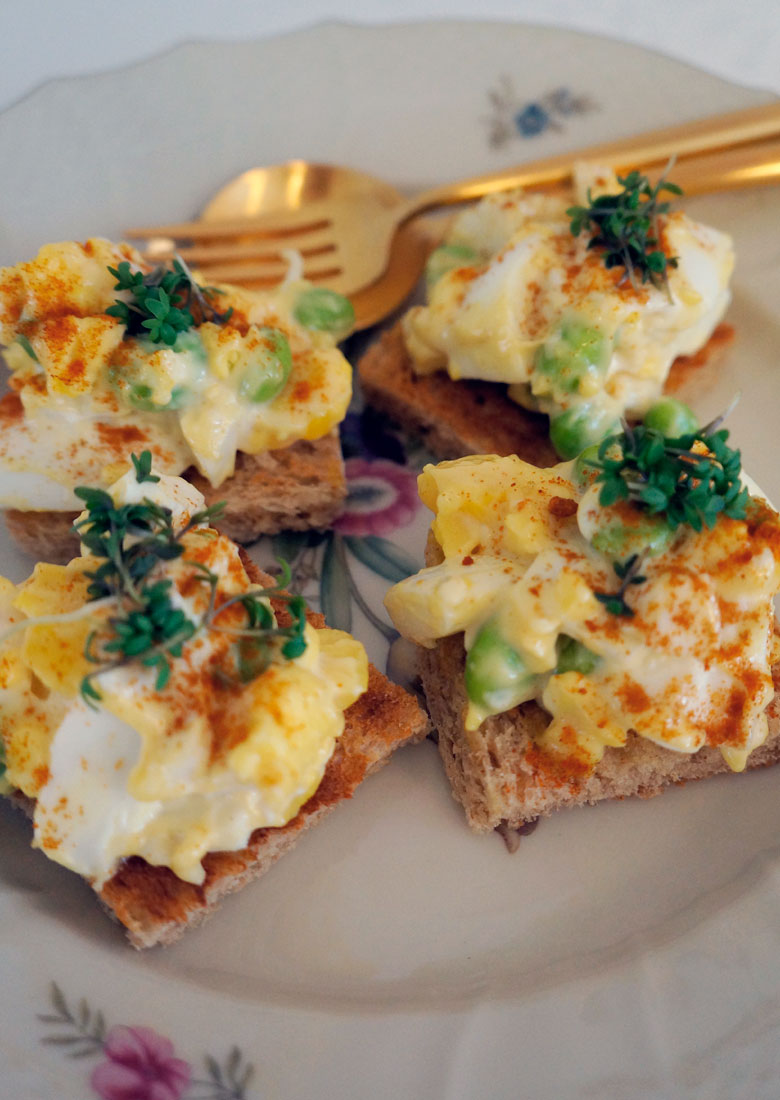 Egg sandwich with edamame beans.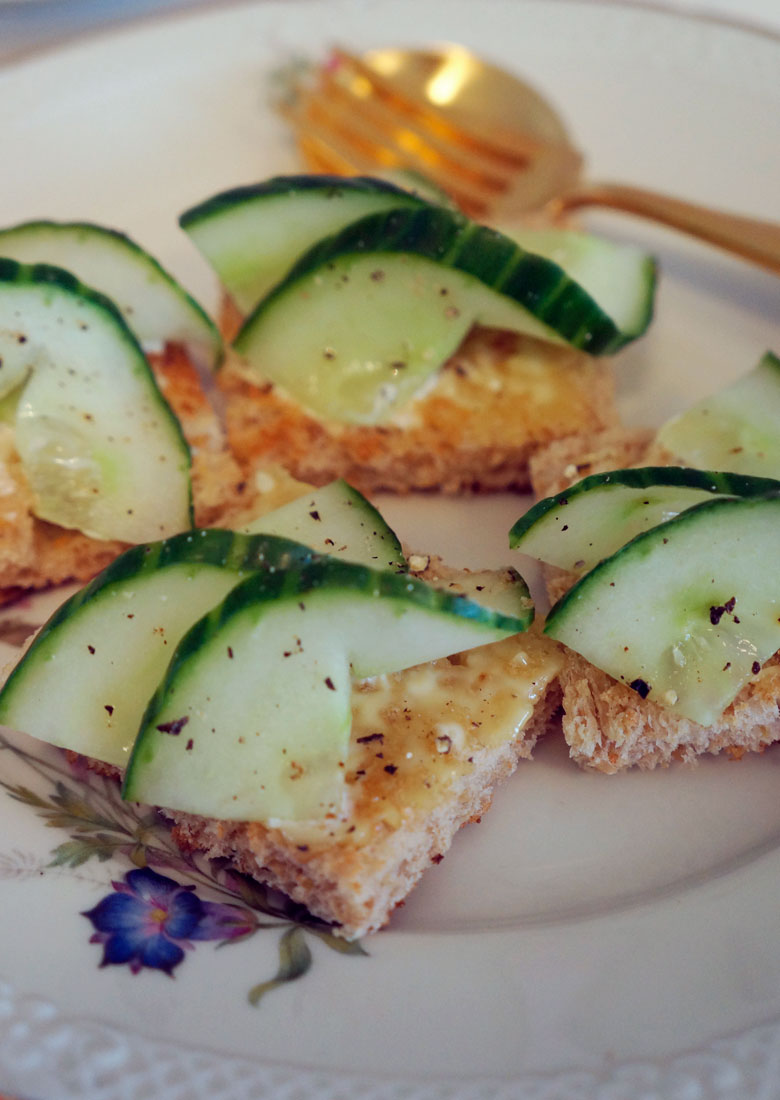 Cucumber & mustard sandwich.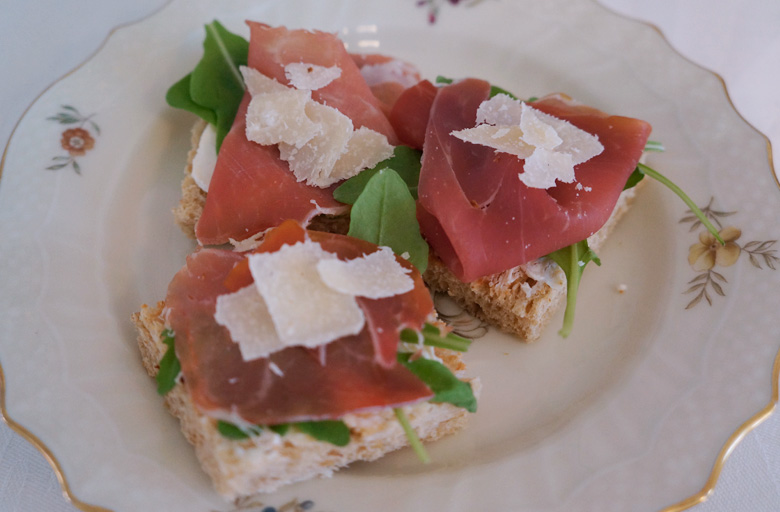 Parma ham sandwich with Arugula and Parmesan.
Our favorites from Perch's Teashop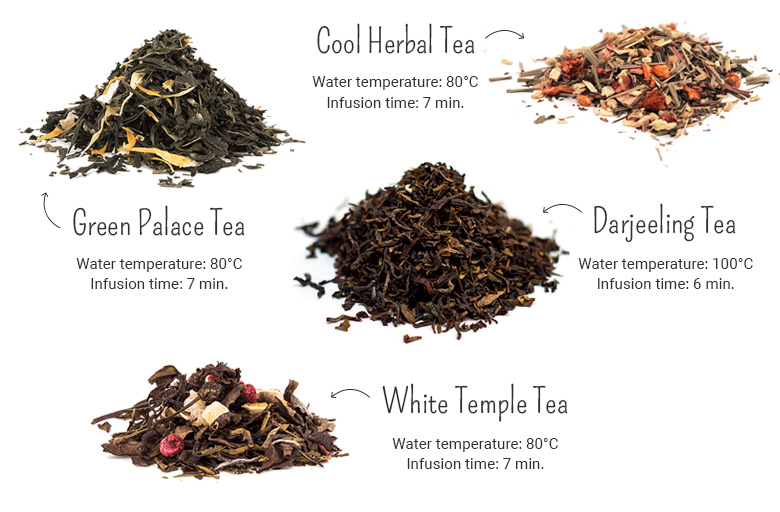 Scones & clotted cream
Cluttered Cream
• 500 ml heavy cream
Scones
Makes 16
• 160g all-purpose flour
• ½ teaspoon salt
• 1½ teaspoon baking powder
• 50g butter
• 100ml milk
• 75ml heavy cream
Brushing
• 2 tablespoons heavy cream
Cluttered cream
1. Preheat the oven to 75-80C. Pour the heavy cream into ovenware.
2. Cover with tin foil. Leave in oven for approx. 12 hours.
3. After 12 hours, allow to cool before you put the ovenware into the fridge. Leave for another 5-6 hours.
4. Then carefully skim the clotted cream off the top with a shallow spoon and layer it into a bowl. It will keep for about 4 days in your fridge. Use the rest of the cream as you would regular cream (it will be thinner than heavy cream, but can still be added to beverages).
Scones
1. Preheat oven to 250C.
2. Mix flour, salt and baking powder in a large bowl.
3. Finely divide and mix the butter with the flour.
4. Add milk and heavy cream. Work to a dough.
5. Roll the dough out on a lightly floured surface until it's about 2 cm thick.
6. With a 4cm round cutter or the rim of a glass, cut out circles from the dough and place them on a baking sheet.
7. Re-roll any offcuts to use up the dough.
8. Brush the top of each scone with heavy cream and bake in the oven for 10 to 12 minutes, or until risen and golden.
9. Serve with clotted cream and a little jam or lemon curd.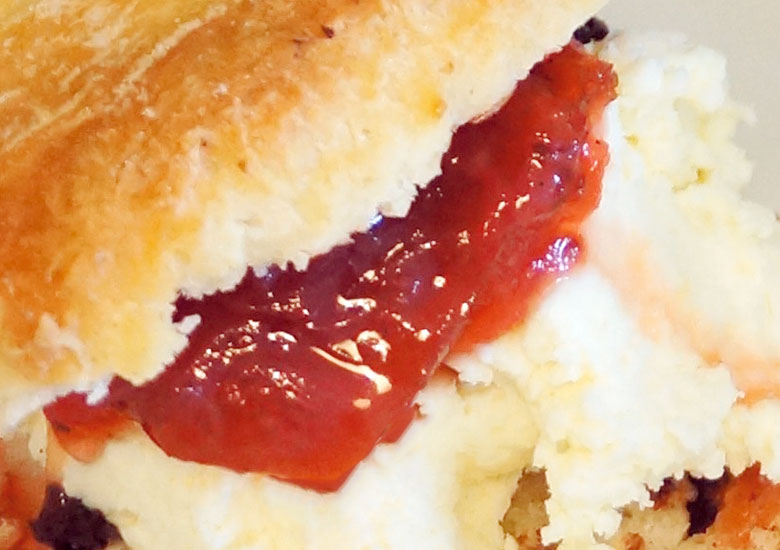 Rhubarb/strawberry compote
1 litre
• 500g rhubarb, chopped
• 400g strawberries, chopped
• 1 vanilla pod
• 570-665g caster sugar
1. Place the chopped rhubarb in a medium-sized saucepan with caster sugar and leave for approx. 1 hour.
2. Scrape the seeds from the vanilla pod and add both pod and seeds to the rhubarb.
3. Bring to the boil, then turn down the heat and simmer for 10 minutes until the rhubarb is soft and cooked, but still holds its shape.
4. Fill clean canning jars with the rhubarb compote.
5. Tap the bottom of each jar gently but firmly on the palm of your hand to settle the compote and release any air bubbles. Screw on canning lids.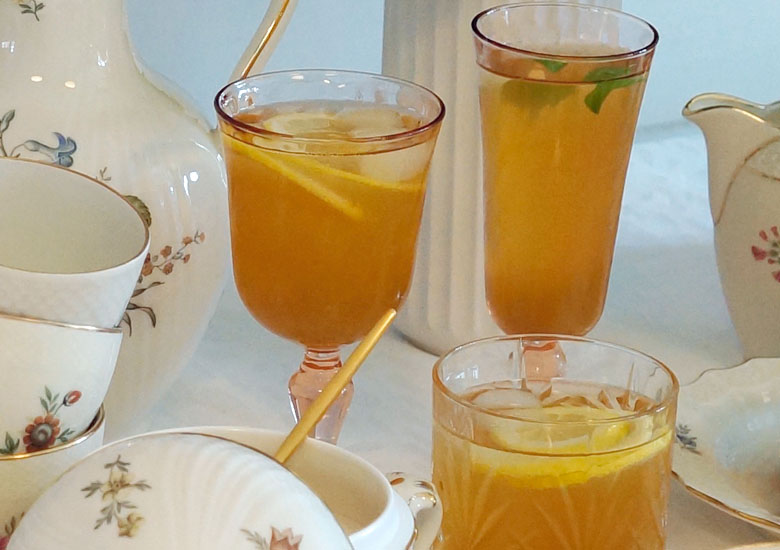 Ice tea
• 4 tbsp. green tea
• 1 L of water
• 2 tbsp. honey
• 5 sprigs of mint
• 5 slices of organic lemon
• Lots of ice cubes
1.Brew a strong tea and let it cool (brewing it stronger than usual as the ice cubes will make the tea thinner).
2. Add the remaining ingredients and stir thoroughly, to give flavor.
3. Add a lot of ice cubes before serving.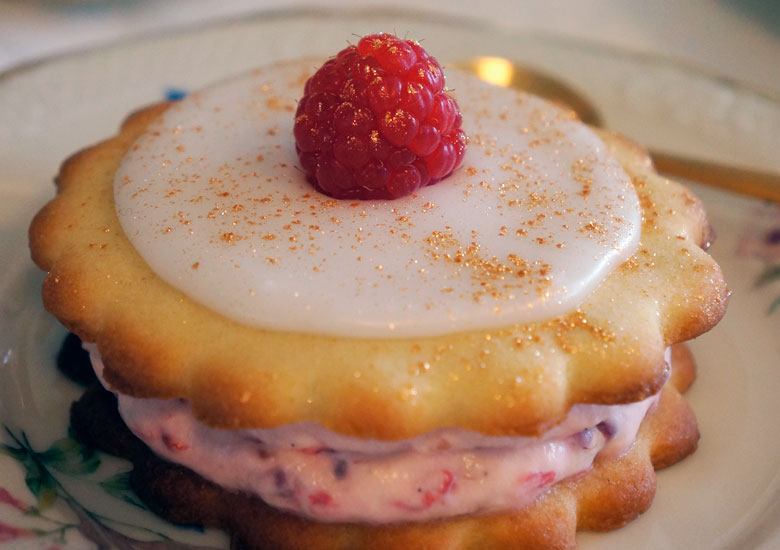 Danish Medaljer ("Medals")
Makes approx 10 "medals".
• 200 g butter
• 150 g icing sugar
• 1 pinch of salt
• 350 g of wheat flour
• 1 egg
Raspberry Foam:
• 1 cup of whipping cream
• 1 vanilla pod
• 0.5 cup of mascarpone
• 3 tablespoons icing sugar
• 500 g of raspberry
• 3 tablespoons cold water
Pastry
1. Knead the butter, icing sugar and salt together.
2. Stir in the flour and egg. The dough is now like coarse breadcrumbs.
3. Gather the dough with cold water. When the dough is assembled into a clump, leave it in the fridge for at least an hour.
4. On a floured board, roll dough out to about 1/8 inch thickness, and cut into shapes using a small pastry cutter. Add the "medals" on wax paper on a baking sheet.
5. Bake the "medals" on a baking sheet for 5-6 min. at 200°C. When finished cool the "medals" on a wire rack. Store them in a cake tin, if they have to be used the next day.
Glaze 
6. Stir icing sugar and water together to glaze.
7. Glaze your homemade "medals" with icing and decorate 10 of them with raspberries.
Cream
6. Whip the cream.
7. Scrape the seeds from the vanilla-rod.
8. Beat the mascarpone, icing sugar and vanilla seeds into the cream until the cream is smooth.
9. Mix the rest of the raspberries into the cream.
10. Devide the cream between 10 of the "medals".
11. Place the 10 decorated "medal-lids" on top of the bottom ones.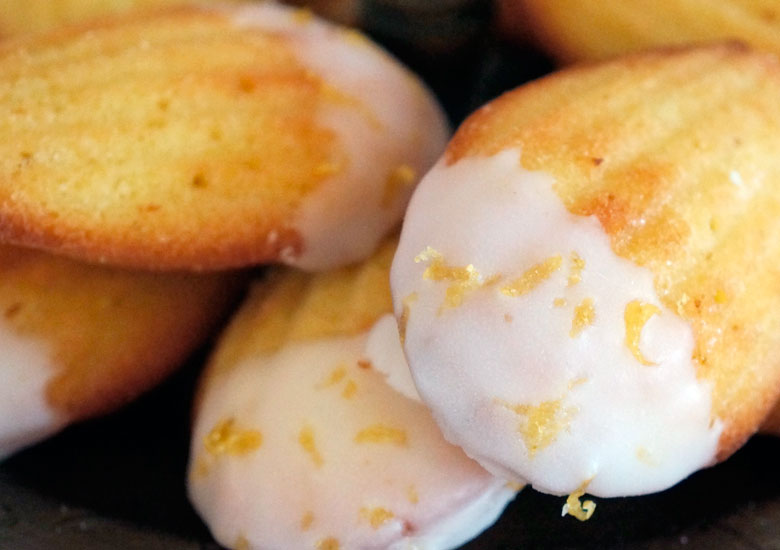 Maddelaines
• 200 g butter
• 4 eggs
• 150 g of sugar
• Grated zest and juice of 1 organic lemon
• 50 g of almond flour
• 180 g of wheat flour
• 1 pinch of salt
• 1 teaspoon. baking powder
• Baking tin for madeleine cakes
1. Melt the butter over low heat and let it cool.
2. Beat eggs and sugar together until white and fluffy.
3. Add the finely grated lemon zest to the dough along with about 2-3 tbsp. of lemon juice.
4. Mix the almond flour, wheat flour, salt and baking powder together in a bowl, and then carefully turn the flour mixture with the egg mixture (use a spatula) until you have an airy and smooth dough. Finally, stir in the cooled butter, and let the dough rest 30 minutes in the fridge.
5. Heat the oven to 200°C and butter the baking pan. Only fill the holes in the mold  with ²/₃ of the dough.
6. Bake in the oven for 5 minutes. Then turn the oven down to 170 ° and bake the cakes for another 7-10 minutes, or until they are raised up and golden.
7. Cool the cakes on a wire rack.
Glaze
8. Stir powdered sugar and finely-grated zest with a little boiling water in a bowl into a thick glaze.
9. Drizzle with a little lemon juice, and stir the glaze until smooth.
10. Dip the tip of the madeleine cakes in the glaze.
11. Garnish with more lemon zest.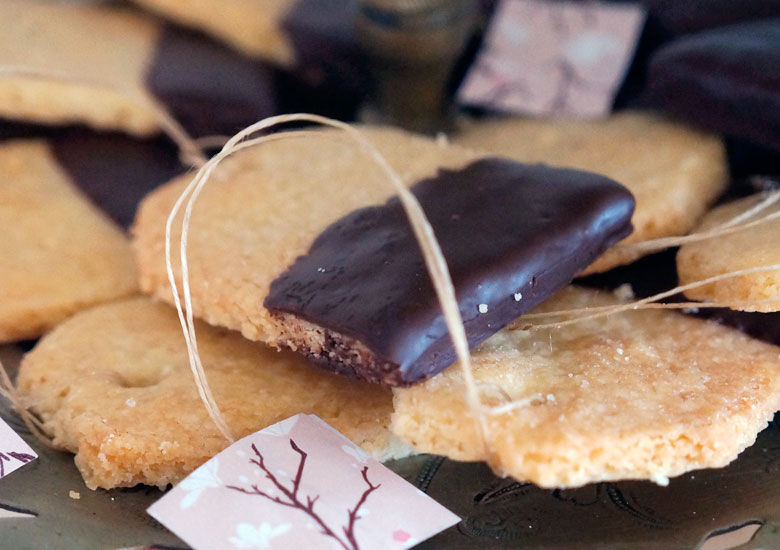 Tea biscuit
• 200g butter
• 1 teaspoon vanilla powder
• 90g granulated sugar
• 190g all-purpose flour
• 100g dark chocolate
• Teabag template
• Thin thread
• Wrapping paper or other decorated paper
• Glue
1. Mix all ingredients to dough in a stand mixer.
2. Put the dough into a small plastic bag and let it rest for 30 minutes in the fridge.
3. Preheat the oven to 175C.
4. Roll the dough out on a lightly floured surface until it's about 1cm thick.
5. With a teabag template cut small teabags out of  dough and place them on a baking sheet.
6. Make a hole for your thread at the top of the biscuit. Bake for 10 minutes or until golden brown. Let cool.
7. Melt the chocolate in the microwave or over hot water. Dip half of the biscuit into the chocolate and leave to dry on a baking sheet.
8. Tie a thin thread to the biscuit and make a label out of wrapping paper to be glued at the end of the thread.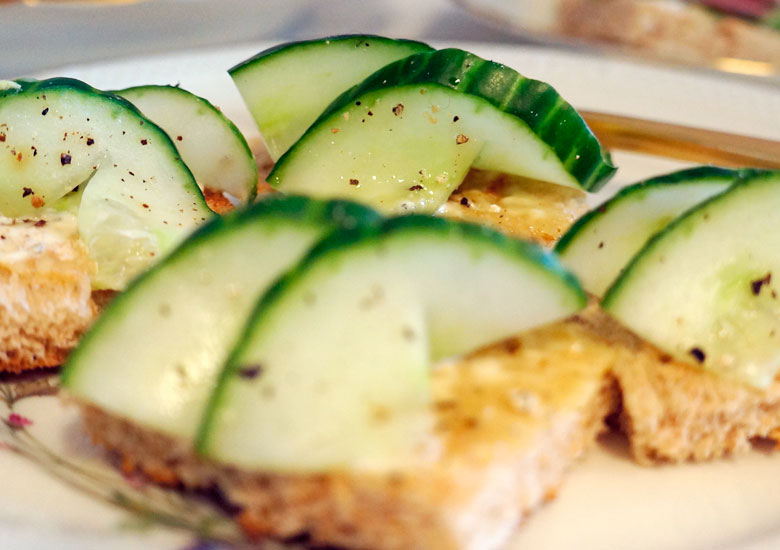 Cucumber sandwich
• 3 slices of sandwich bread
• 40 g butter (soft)
• 1 tablespoon mustard
• Slices of cucumber (about ½ cucumber)
• Salt and freshly ground pepper
1. Toast the sandwich bread.
2. Stir together softened butter and mustard.
3. Butter the bread slices.
4. Cut slices of cucumber and arrange nicely.
5. Season with salt and pepper.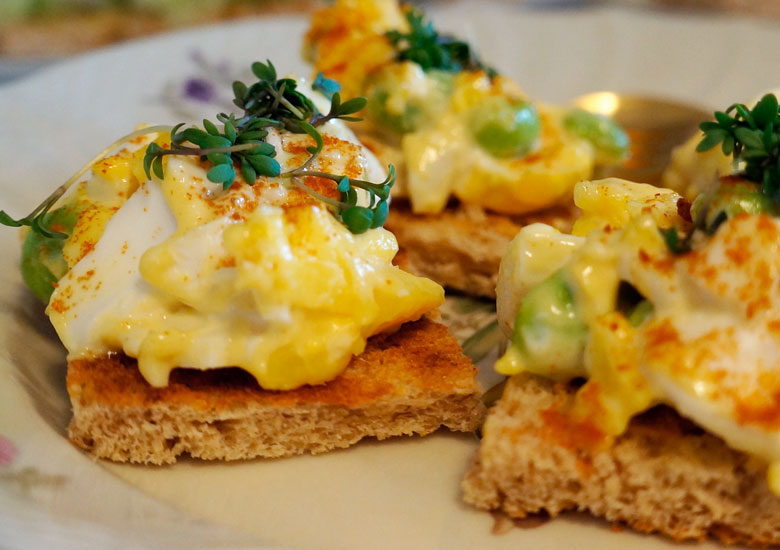 Egg & edamame sandwich
• 2 slices of sandwich bread
• 2 eggs
• 1/8 cup mayonnaise
• Paprika
• Salt
• 1/8 cup edamame beans
• 1 teaspoon extra-virgin olive oil
• Watercress for decoration
1.Toast the bread in a toaster.
2.Over medium-high heat, boil the eggs until hard-boiled. Shell them, and chop coarsely.
3. In a small bowl, mix together the mayonnaise, eggs, edamame beans, a pinch of paprika and salt.
4. Divide the toast into 4 pieces and add the egg salad to each piece.
5. Decorate with some watercress.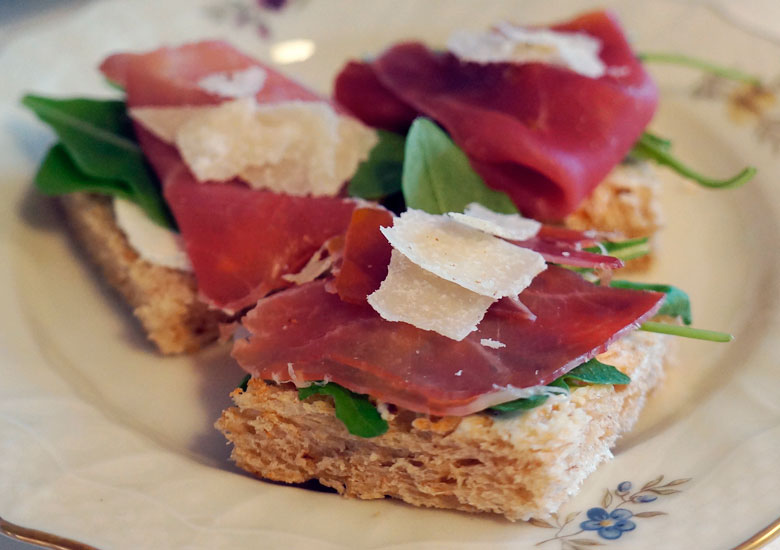 Parma ham sandwich
• 3 slices sandwich bread
• 6 tbsp. cream cheese
• 1 tbsp. grated Parmesan cheese
• Parmesan cheese shavings for decoration
• 3 big slices parma ham or any similar ham
• Arugula
1.Toast the bread.
2. Mix together the cream cheese and grated Parmesan in a small bowl.
3. Spread some cream cheese on a slice of toasted bread, and place some arugula on top.
4. Add a slice of parma ham on top together with Parmesan shavings.