I love the sweet taste of mulled wine and the fantastic smell that rapidly brings the best Christmas feeling to our house. In Sweden (where I'm from) the drink is so popular that the biggest mulled wine producer launches a special edition each year.
For me though, the old classic one is still the best. I use to serve it together with gingerbread or "pebernødder"- a small Danish Christmas biscuit. After 15 years in Denmark I guess that I at least have tried 10 different recipes of this tasty little thing, but this recipe from the famous Danish bakery "Lagkagehuset" is by far the best. For my version – Pebernød "Swedish style" you just add some lingonberry jam and powdered sugar.
Love Alexandra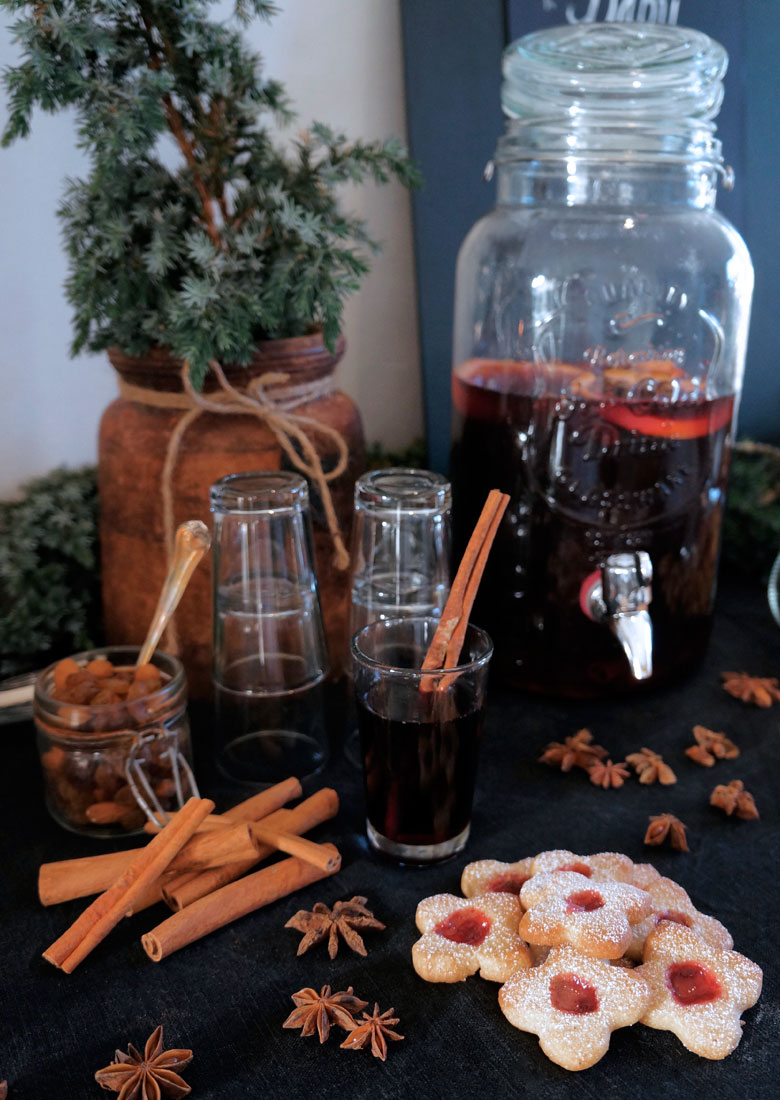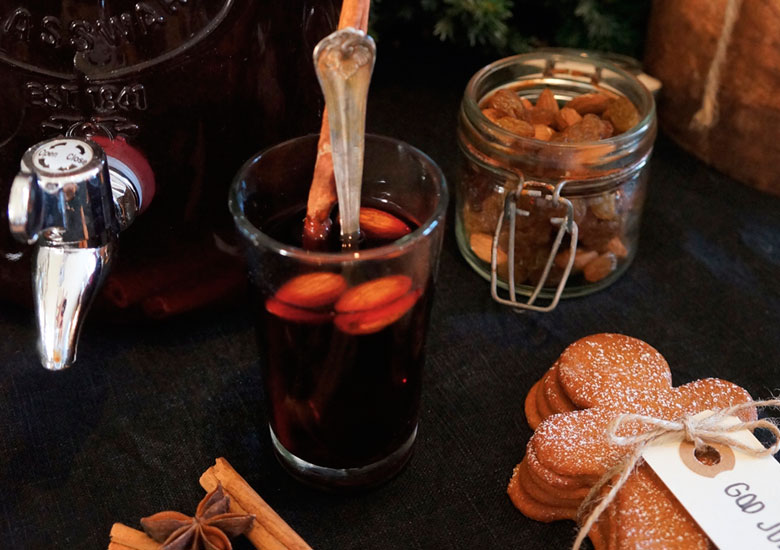 Mulled wine
• 250ml water
• 1 small bitter orange
• 1 small piece of ginger
• 2 cinnamon sticks
• 8 cloves
• 1 teaspoon cardamom
• 75cl red wine
• 90g caster sugar
For serving:
• Almonds & raisins
In a large saucepan mix all spices with water and leave to simmer slightly covered for 30 minutes.
Strain the spices from the syrup.
Add red wine and sugar to the syrup.
Serve the mulled wine warm together with almonds and raisins.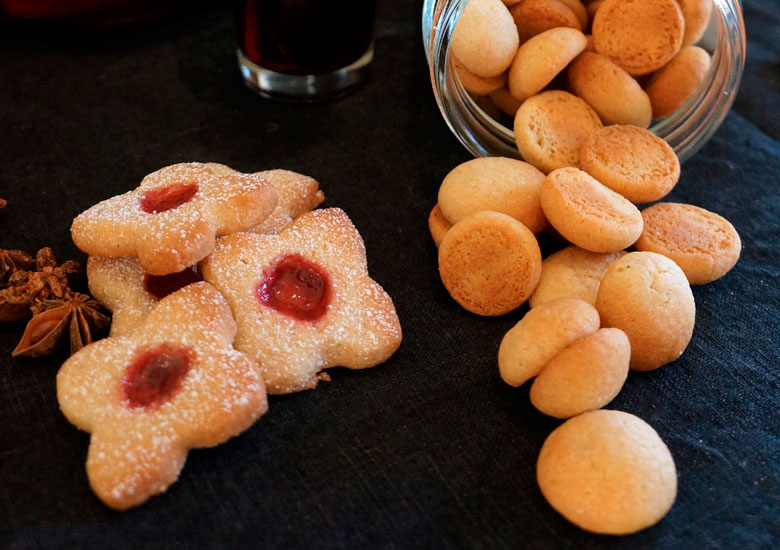 Danish Christmas biscuit & Lingonberry biscuit
Makes 250
• 250g butter, softened
• 250g caster sugar
• 100ml heavy cream
• 500g all-purpose flour
• 1 teaspoon ground ginger
• 1 teaspoon ground cinnamon
• 1 teaspoon ground white pepper
• 1 teaspoon ground cardamom
• 1 teaspoon baking powder
• 1 teaspoon baking soda
For lingonberry biscuits:
• Lingonberry jam
• Powdered sugar
Preheat the oven to 200C.
In a bowl of a standing mixer, whisk butter and sugar until smooth.
Add heavy cream and on the lowest level, blend the batter.
Mix all dry ingredients.
Add the dry ingredients to the batter.
Blend until combined.
Divide the dough into smaller parts. Roll each part to finger thick strips and cut into 1cm small pieces. For the jam biscuit, make a small hole in each round piece by pressing your finger to it. Fill the hole with jam.
Put the biscuits on a parchment paper covered baking tray and bake for approx. 7-8 minutes or until they are golden-brown. Leave to cool.
Decorate the jam biscuits with powdered sugar.