What can be more appropriate to serve as dessert on Halloween than a "to die for" Devil´s food cake? Decorated with meringue ghosts this is, according to me, the perfect cake. I got this recipe from a friend 15 years ago and it is still the best I've tried for this moist, airy, rich chocolate layer cake. And yes, together with the meringue ghosts, the cake will take you some time to do. But trust me-it's all worth it.
Love Alexandra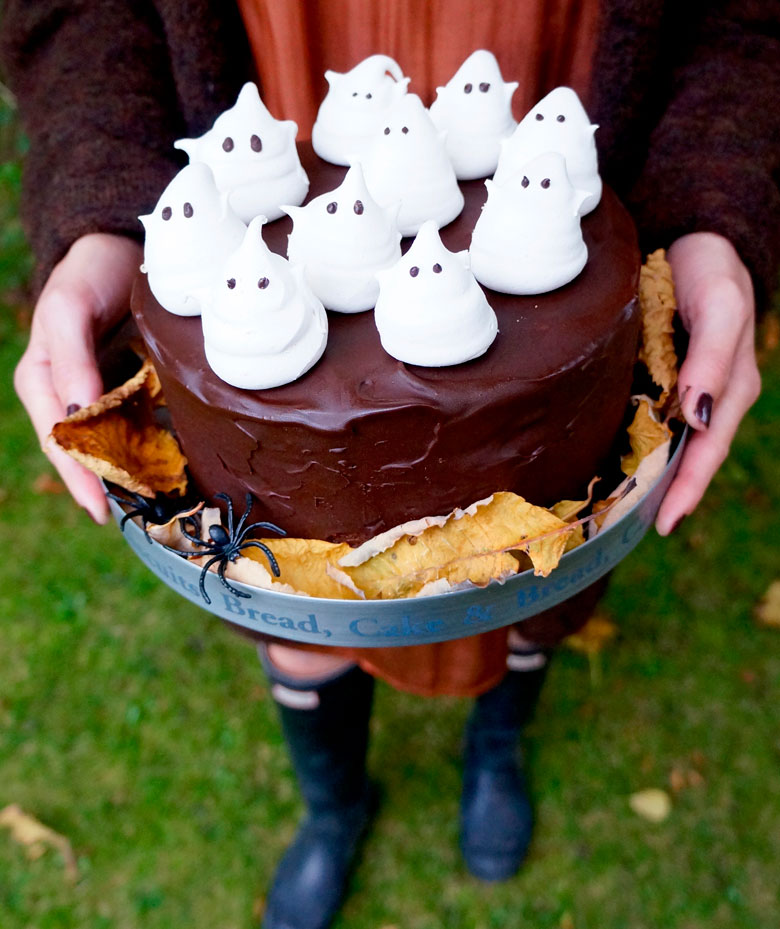 You will need:
This cake is amazing. Use it for every occasion, just change the decoration.
How to:
Preheat oven to 180C.
Line the bottoms of two 18cm round baking pans with parchment paper and butter the sides.
Mix all dry ingredients except for vanilla sugar in a large mixing bowl.
In another bowl, whisk egg, sour cream and vanilla sugar.
Add the dry ingredients into the batter.
Melt the butter and blend it with oil and water.
Add to the batter and stir until combined.
Divide the batter evenly between the baking pans and bake for 45-50 minutes.
Leave to cool for 15 minutes before removing them from the baking pans.
Frosting:
Melt chocolate over hot water and then add butter, icing sugar and vanilla sugar.
Stir until no lumps.
Divide each cake into two.
Cover each part with frosting using ¼ of the frosting.
Cover the whole cake with the rest of the frosting.
Leave in the fridge while you make the chocolate cover cream.
Chocolate cover cream:
In a small saucepan melt butter and chocolate.
Leave to cool until the cream is a little bit warmer then room temperature.
Cover the whole cake with a thin layer of chocolate cream.
Leave to settle before you decorate the cake with meringue ghosts.
Preheat oven to 100C.
Line a baking sheet with parchment paper.
Tip the 2 large egg whites into a large clean mixing bowl (not plastic).
Beat them on medium speed with an electric hand whisk until the mixture resembles a fluffy cloud and stands up in stiff peaks when the blades are lifted.
Turn the speed up and start to add the sugar, a tablespoonful at a time. Continue beating for 3-4 seconds between each addition.
Add the mixture to an icing bag with round pipe.
Pipe small ghost.
With your finger, quickly touch left-hand and right-hand side of the ghost to give the ghost arms.
Bake for 1 ½ hour.
Allow to cool.
Melt the chocolate.
With help of a toothpick, make eyes with the chocolate on the ghosts.
Allow to dry.
The meringues will keep in an airtight tin for up to 2 weeks, or frozen for a month.