I've got no idea how this could happen, but I'm late. Like VERY late. With the whole plan for Christmas. Normally at this time of the year, the kids and I have plenty of small Christmas projects, the freezer is started to get filled up with different kinds of bread and cakes and I know exactly what to buy for Christmas gifts for everyone in my family. But not this year. This year I don't even know where to start. What I do know, is that I LOVE Christmas, and that loss of time won't stop me from enjoying the best celebration of the year. So even if I've been a slow starter this year, I'm absolutely sure that this Christmas is going to be exactly just as good as all the others. So let´s kick-start this Christmas with Michael Bublé's Christmas and this easy gingerbread cupcakes.
Love Alexandra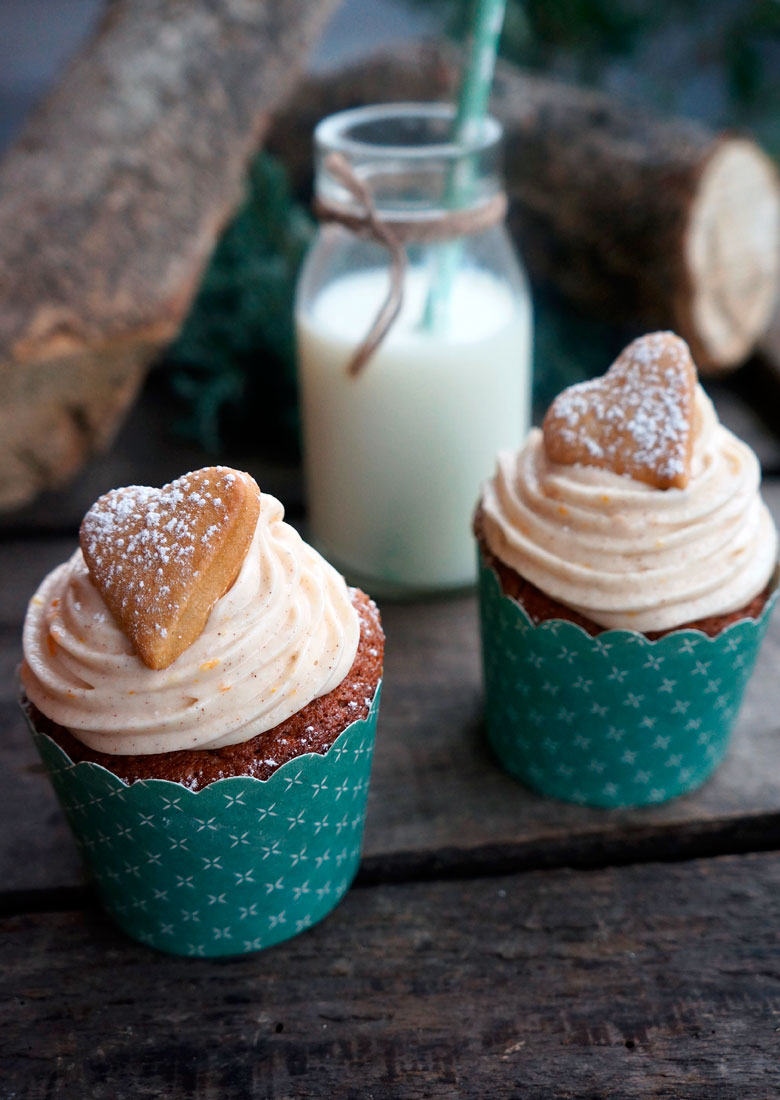 You will need:
• 150g butter
• 3 eggs
• 270g granulated sugar
• 150ml buttermilk 3%
• 150ml lingonberries
• 270g all-purpose flour
• 1 teaspoon baking soda
• 1 1/2 tablespoons ground cinnamon
• 1 1/2 tablespoons ground ginger
• 1 teaspoon ground cloves
Frosting:
• 200g cream cheese, room temperature
• 60 g butter softened
• 360 g powdered sugar
• 1 teaspoon cinnamon
• grated zest of one orange
Decoration:
• Small gingerbread cookies
• Powdered sugar
How to:
Heat oven to 175C and line a 12-hole muffin tin with cases.
Melt the butter and let cool.
In a large mixing bowl, whisk eggs and sugar until light and fluffy.
Add the melted butter, buttermilk and lingonberries and stir.
In another bowl blend flour, baking soda and spices.
Add all dry ingredients to batter and stir.
Divide the batter between cases and bake for 13-15 min. until a toothpick poked in comes out clean.
Cool on a wire rack before icing.
For the icing, beat the butter until really soft then beat in the soft cheese, icing sugar, cinnamon and zest.
Use a palette knife or icing bag to swirl the icing on top of the cupcakes.
Decorate with a small gingerbread cookie and dust with icing sugar.
Make a Christmas cake instead of cupcakes. Divide the batter equally between two round baking pans 15 – 18 cm. Bake in preheated oven for 45 min. Let cool. Divide each cake into two layers and cover with frosting. Stack all the layers and cover with frosting. Decorate the top of the cake with a small gingerbread house or gingerbread cookies.