What can possibly be better than having your very own ice cream shop when you are a kid? That must be having your own ice cream shop with all your best friends (and mum and dad) as customers!!
Make this ice cream store for the next birthday party or surprise your kids a weekend with one amazing ice cream day. You can easily make quick solutions when creating the store. Let the kids draw their own money or ice cream tickets, blow balloons as decoration, use a small table as a store counter and buy the ice cream at your local supermarket instead of doing it yourself. Voilà! The store is open!
Love Rosa & Alexandra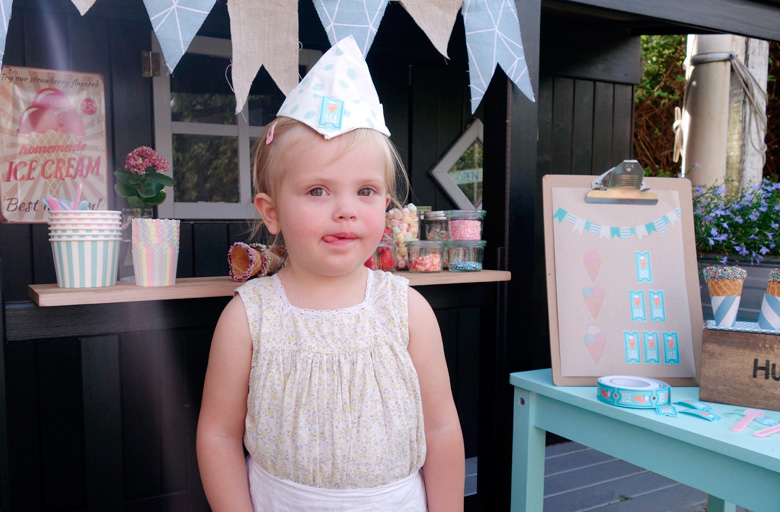 The store is open. Welcome!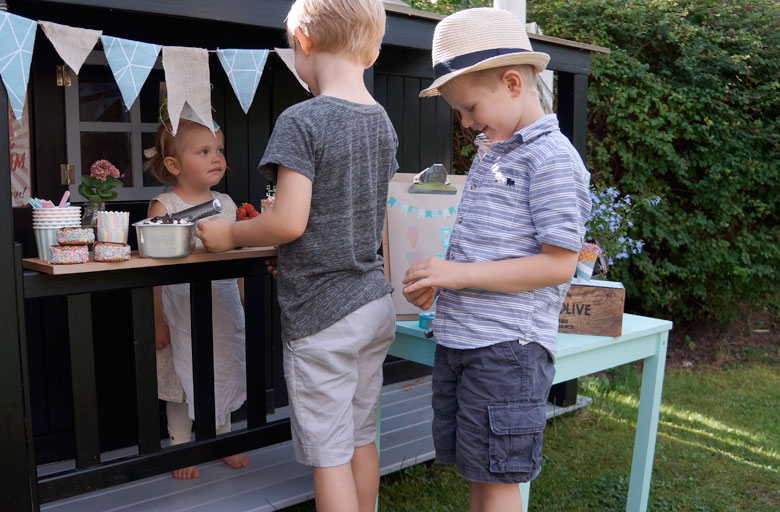 The first costumers arrive.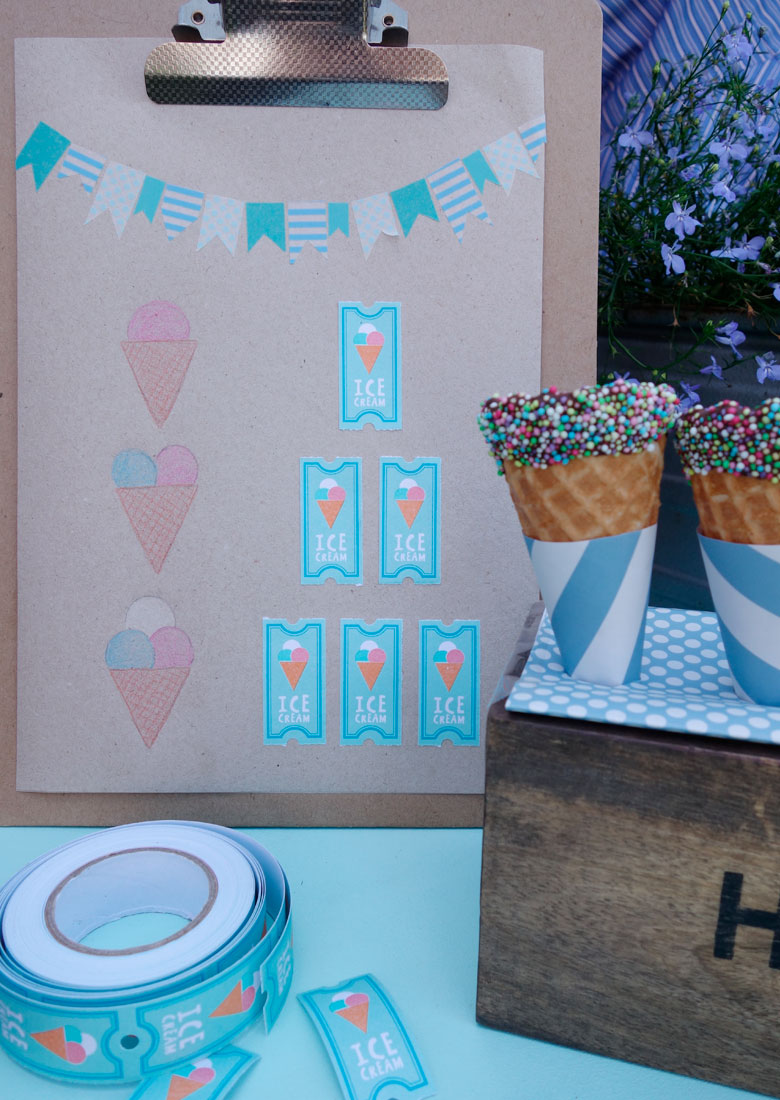 Let the kids make their own ice cream tickets.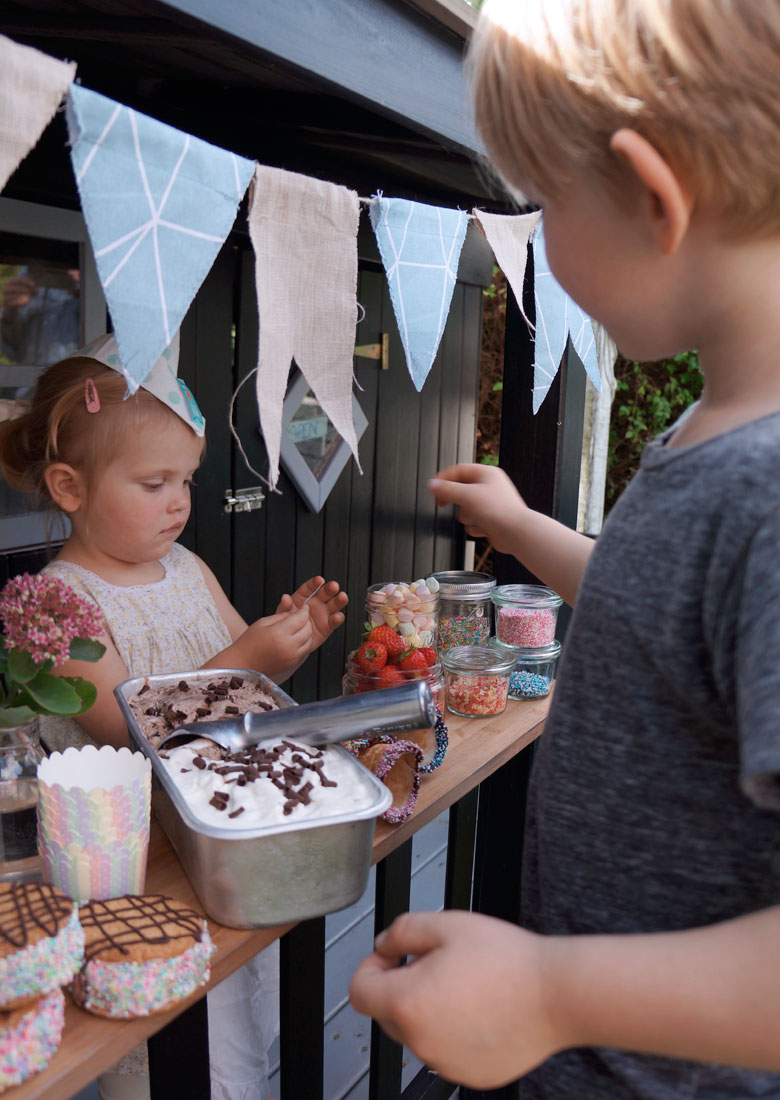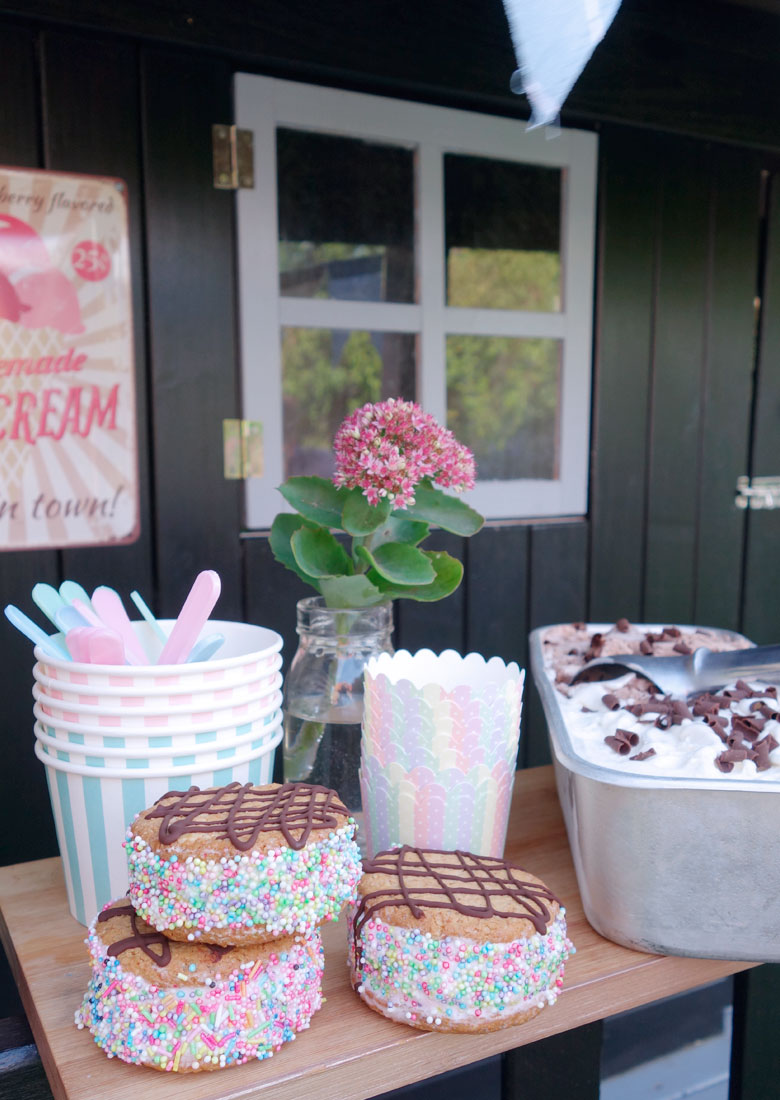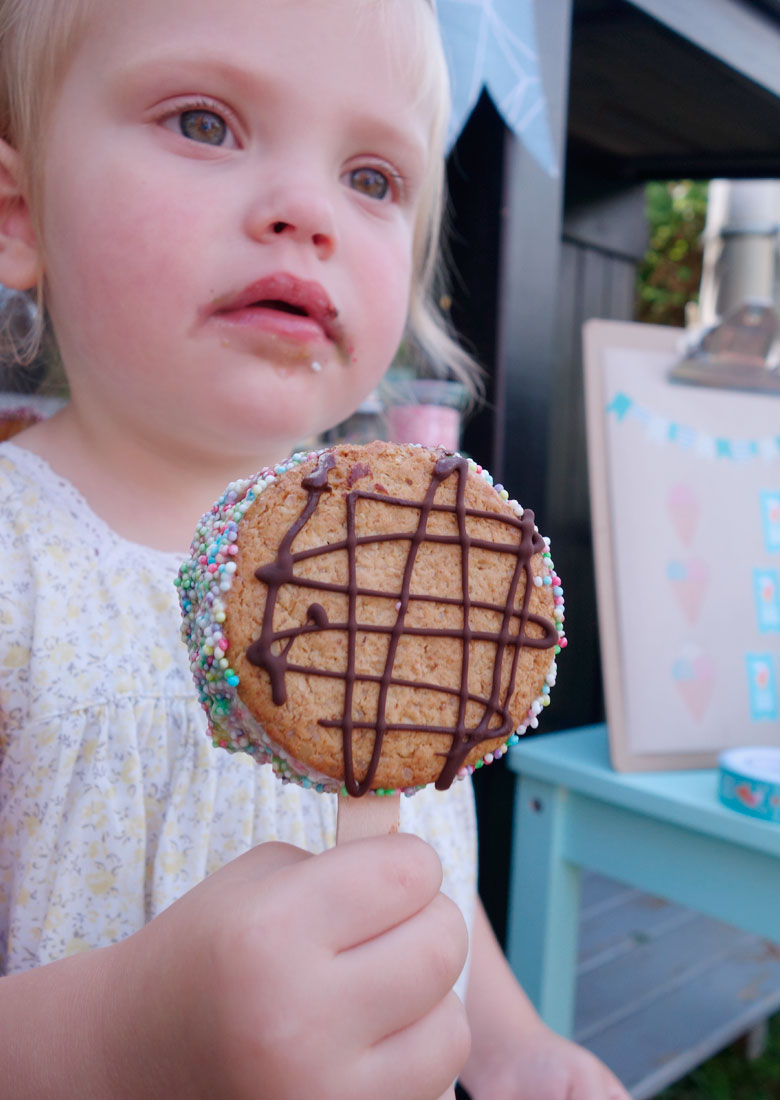 ….which by the way tastes fantastic, or…..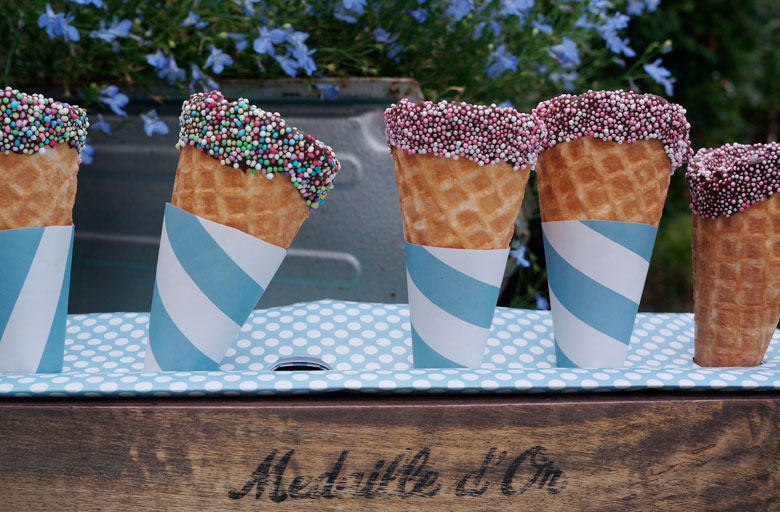 …..make your own double-dip in these.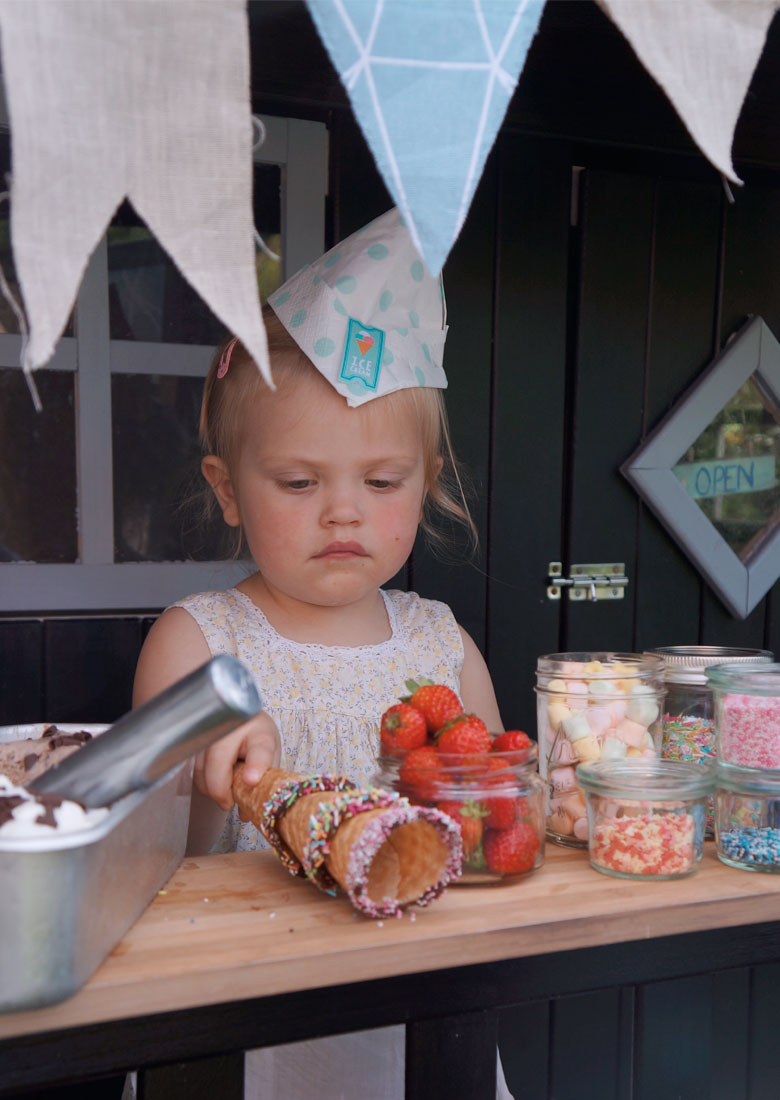 Use mini marshmallows, colourful sprinkles, chopped nuts……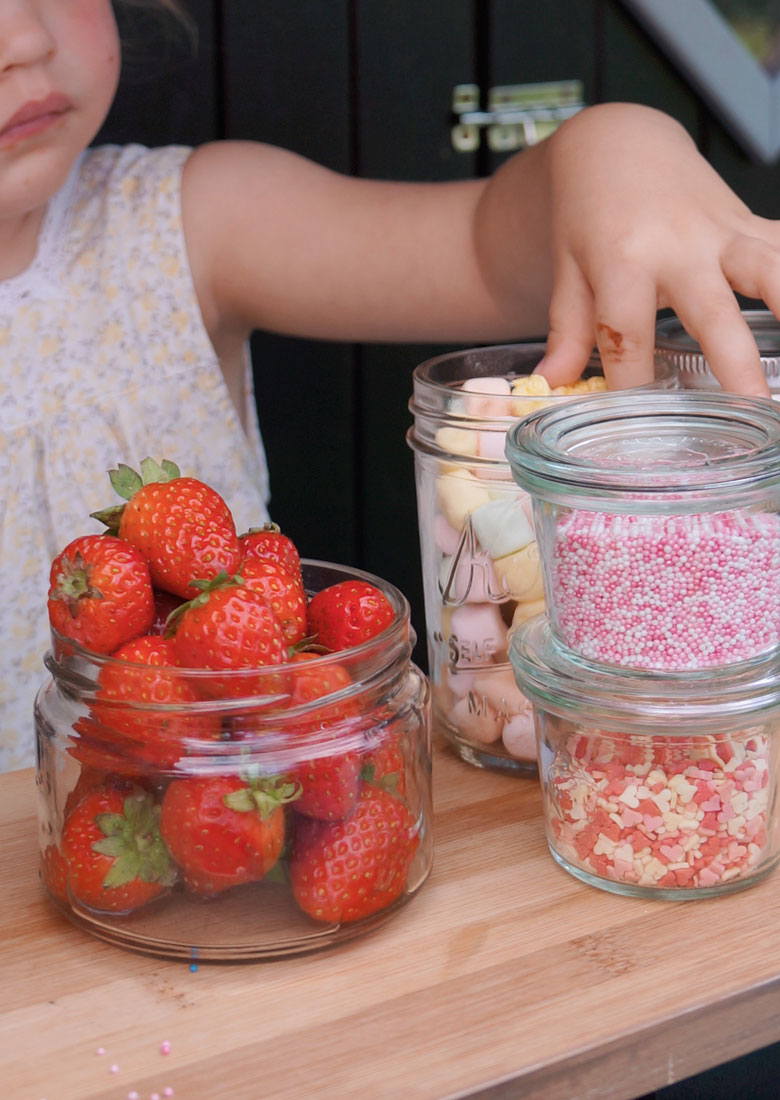 …..or fresh berries as topping on your double-dip.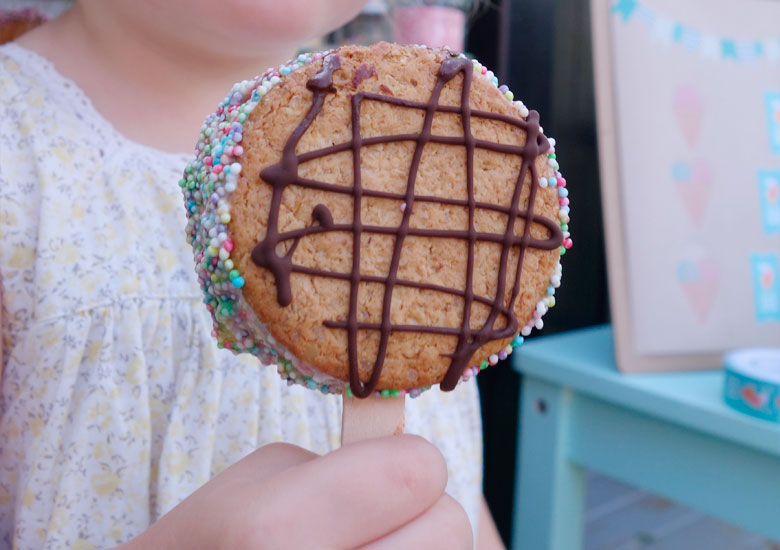 Cookie popsicles
• 8 cookies (of your choice)
• vanilla ice cream
• sprinkles
• 50g dark chocolate
• 4 sticks
Put ice cream in-between two cookies.
Decorate the whole way around on the side with sprinkles.
Put a stick into the ice cream.
Melt the chocolate and make a nice pattern on the cookie.
Serve immediately.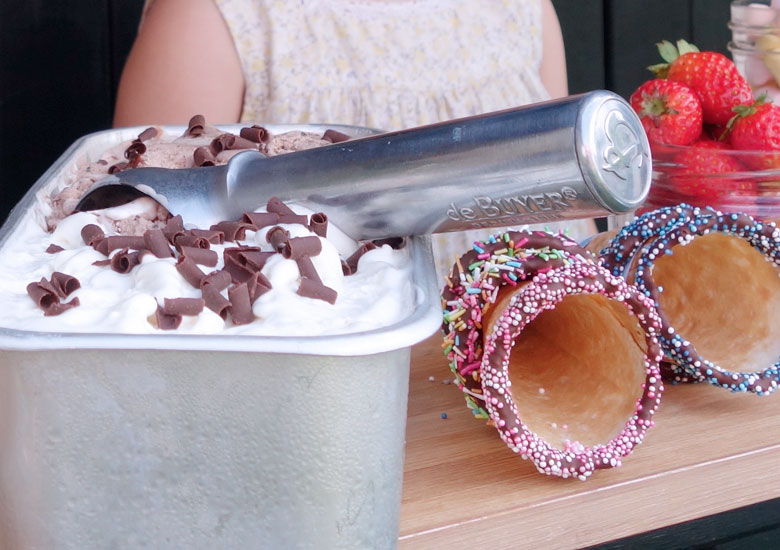 Vanilla & chocolate ice cream
• 2 cups of whipping cream
• 1 cup of milk
• 3 whole eggs
• 100 g of sugar
For the vanilla flavor:
• Grains from a vanilla bean
For the chocolate flavor:
• 100 g dark chocolate (roughly chopped)
Mix everything (except for the chocolate for the chocolate flavored ice cream) together in a saucepan and warm it up slowly to 85 degrees. Exactly! If you do not have a meat thermometer, take it as soon as it is clear creamy and the first boiling bubbles start to appear. If it boils, it is destroyed. 

Pour the cream into a bowl and let the cream cool. 

(Only for the chocolate flavor) Add the roughly chopped chocolate. 

Pour the cream into an ice cream maker to freeze the ice in.

Scrape off the ice into a container that can go into the freezer.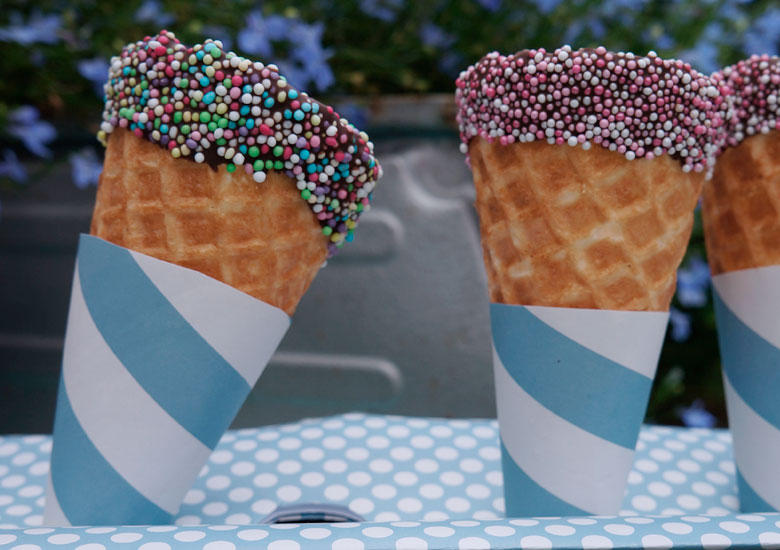 Sprinkle ice cream cones
• Waffles
• 100g dark chocolate
• Different kinds of sprinkles.
Melt the chocolate and dip the top of the cone in the chocolate.
Immediately sprinkle some sprinkles on the chocolate.
Leave to dry.