Thankfully there will always be trends in both food and baking. I will admit to be one of those that throw myself into trying new things at least once. Well maybe not if it's too complicated, then I'll let the more patient cooks do it. Saying that amidst all the trends and new things sometimes a pure classic can be the absolute shit! Like the good old carrot cake, loved by young and old. Easy to cook and who hasn't got a few carrots lingering in the fridge? Like at the bottom, furthest inside, hiding and need to be eaten now!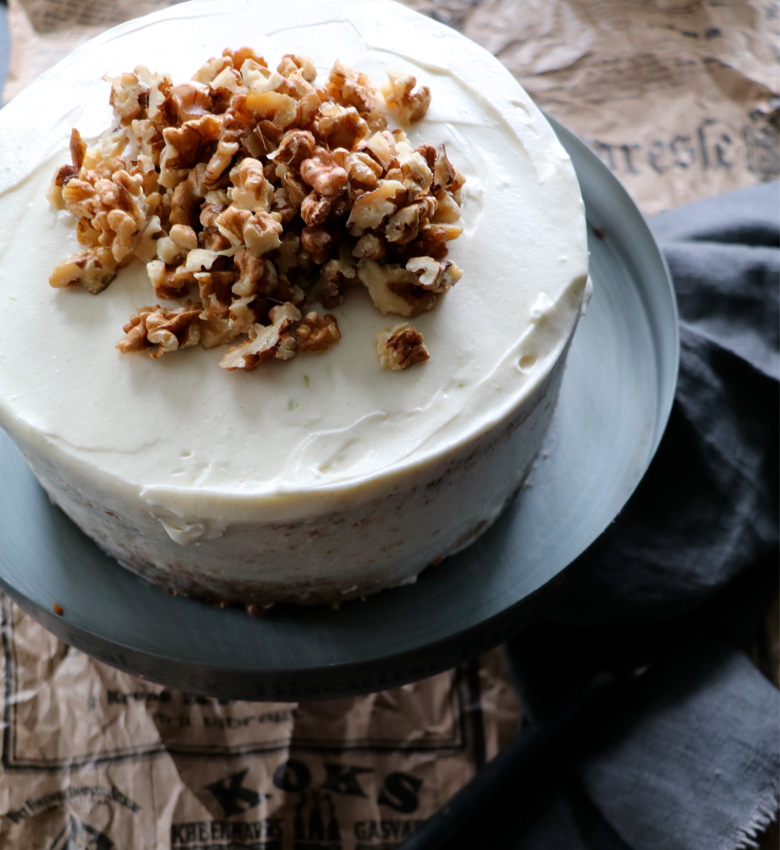 You will need:
• 3 eggs
• 3dl caster sugar
•  4dl carrots, finely grated
•  1dl neutral rapeseed oil or vegetable oil
• 3dl plain flour
• 1tsp baking powder
• 1tsp bicarbonate of soda
• 1tsp cinnamon
• 1tsp ground cardamom (if pods, peel and use a mortal)
•  1tsp ground ginger
• ½ tsp salt
Icing:
• 200g cream cheese
• 100gr butter (softened)
• 2dl icing sugar
•  2tsp vanilla extract
•  Juice of ½ lemon
Decoration:
• Walnuts
Of course the cake can be done in a bigger baking tin like a 24cm, prolong the oven time to about 45-50 min.
How to:
Preheat the oven to 175, grease and line two 18cm springform cake tins.
Beat the eggs and sugar to make a light and fluffy mix.
Add the carrots and oil.
In another bowl, mix flour, baking powder, bicarbonate of soda, cinnamon, cardamom, ginger and salt and combine well. Sift the dry mixture into the eggs and sugar.
Divide the batter into the two tins and bake in the middle of the oven for 30-35 minutes, try the cake with a stick and let it cool.
Whisk all the ingredients for the icing vigorously with an electric whisk until it's smooth, spread the icing on one of the cake and put on top of the other and then cover the whole cake with the rest of the icing.
Decorate the cake with the walnuts